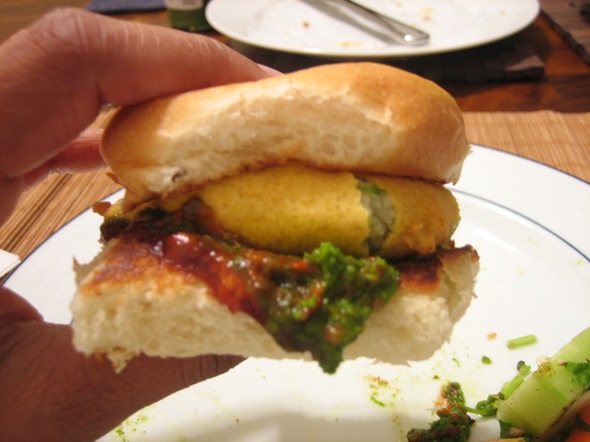 Country roads, take me home, to the place where I belong…John Denver was singing about the mountains of West Virginia but his song resonated with me as I read about prominent Mumbaiites like Suketu Mehta urging the world to run to Mumbai – not away from it in response to the recent terrorist attacks.  I agree with Suketu's message and am trying to not give in to fear, to not feed into the goals of such heinous acts.  So, inspired by another of Suketu's writings, I wanted to share one of Mumbai's most celebrated street foods, Vada Pav. 
The stacks of pav have been sprinkled with chutney – the top half of the inside of the bun is bathed in green chutney, the bottom with red garlic chutney…I walk away from the stall  and crush the vada by pressing down on it with the pav, little cracks appear in the crispy surface, and the vada oozes out its potato and pea mixture.  I eat.  The crispy batter, the mouthful of sweet-soft pav tempering the heat of the chutney, the spices of the vada mixture – dark with garam masala and studded with whole cloves of garlic that look like cashews – get masticated into a good mouthful, a good mouth-feel.  My stomach is getting filled, and I feel like I am eating something nourishing a long spell of sobbing.

Suketu Mehta, Maximum City

This description has stuck with me ever since I read Maximum City months ago.  It took about an hour for me, my brother, his wife, H, and R to make the vada pav (pronounced vuh-duh pow) but it was a lot of fun – from the rolling to the frying to the smearing the chutneys and then chowing down.  Photos courtesy of my brother – deep frying and simultaneous picture taking not recommended.
Vada Pav
Makes ~25 Vadas
Grocery:
8 potatoes
1 cup frozen peas
4 cloves garlic, peeled                                                                             
2 green chilis
1/2 cup coriander with stems
1/2 cup roasted cashews
2 cups besan flower
Canola oil for deep frying
Pav or hamburger buns
Masala Rack:
1/4 tspn. garam masala
1 tspn. coriander 
1/2 tspn. turmeric
1/2 tspn. lal mirch
3 tspn. salt
Mint chutney
Tamarind chutney
Chili garlic chutney
1. Vadas: Boil ~8 potatoes and 1 cup of frozen peas.  Peel the potatoes andmash with the peas in a mixing bowl using a potato masher or a big spoon. 
2.In a food processor, chop the garlic, green chilis, cashews and coriander and then mix into the potato-pea mixture.  Mix in the garam masala, coriander powder and 2 tspn. salt.  Break off portions of the mixture and roll in your palms into round balls.
3. Batter: Make the batter by mixing the besan slowly with ~1 cup water in a mixing bowl.  The batter shouldn't be watery or too thick.  Mix in the turmeric, lal mirch and 1 tspn salt.
4. Heat enough oil for deep frying the vadas.  Dip each vada into the batter and then gently roll into the oil for deep frying.
5. Pav: Spread Olivio on the insides of both halves of the buns.  Pan fry each half until the insides are golden.
6. Vada + Pav: Smear mint, tamarind and chili garlic chutney on one side of the pav.  Place the vada on top, then the other side of the pav and gently smush.  Then, open your mouth wide and enjoy the "mouthful" – the "mouth-feel."  We put the chutneys out and then each assembled our own vada pavs – it's more fun that way and let's you choose how much chutney (i.e. heat) you can handle. 
This vada pav recipe was given to us by H's mom with a little improvising on our part…like so many desi recipes passed down from parents, it was a list of ingredients without any measurements (b/c apparently parents don't measure!).  I wrote down the amounts we used as went along so here's to another desi recipe being demystified.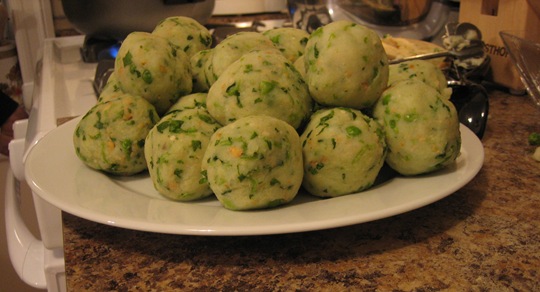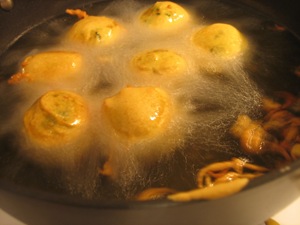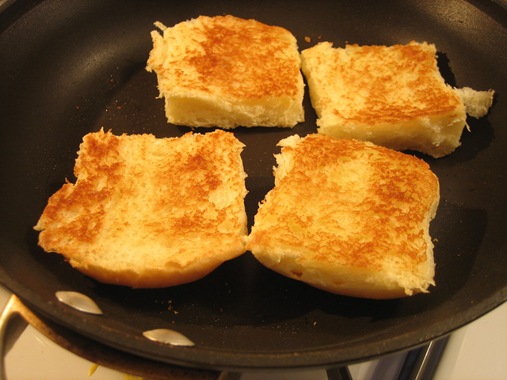 Also, here's a post from Holy Cow, a vegan cooking blog, also about celebrating Mumbai and it's beauties through it's street food that I really liked.