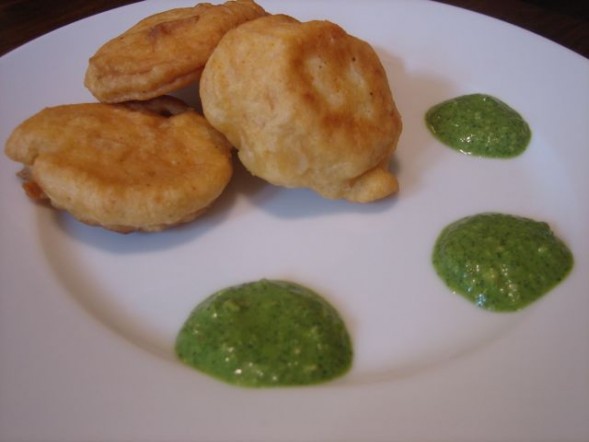 Bhaji is basically Indian tempura – vegetables battered in a spicy flour coating, deep fried and served piping hot straight out of the oil, slightly crunchy on the outside and soft on the inside.  In our house, bhaji was the late afternoon snack of particularly lazy Saturday afternoons following a nap.  Bhaji was the pre-dinner treat that my mom would have waiting when I came home for weekend visits from college.  Rainy day comforts.  Winter blues chasers.  Family get together indulgences.  Bhaji still reminds me of those times at home and manages to conjure warm feelings of comfort and goodness.  It seems silly to think that such a simple food could have such effect, no?
Bhajis 
~makes about 20-25 pieces~      

Grocery:
2 cups gram flour
1 cup rice flour
1/2 cup fine cornmeal*
2 medium sized potatoes, peeled
1 white onion
1/2 head cauliflower, cut into small florets
Masala Rack:
2 tspn. salt (more to taste as needed)
1 tspn. lal mirch
Staples:
For dipping: Ketchup, Coriander Chutney or Mint Chutney
*Cornmeal is optional.  My mom had the idea to add this to the batter after we had really good bhaji somewhere…maybe Chennai Garden in NY.  I tried it and it turned out nicely because it gives a nice, thick and crunchy coating.  But it's not required.   
Preparing the Batter:
1. In a large mixing bowl, mix together all of the flours.  Mix in the lal mirch and salt.
2. Add water – add 1 cup of water first and mix.  Add more water as needed until the batter has a pancake like consistency.  The batter should not be very thin.  If it is too thin, add more flour.  
3. Taste the batter to make sure there is enough lal mirch and salt.  
Preparing the Veggies:
1. Peel the potato and cut them into 1/4 inch thick slices.  
2. Cut the onion down the middle and cut into thin slices.
3. Cut the cauliflower into small florets.  
Making the Bhaji:
1. Heat enough oil (I used canola) in a deep skillet to deep fry the bhajis on medium-low to medium-high heat.  
2. When the oil is hot, drop a handful of the veggies into the batter.  Take one veggie, make sure it is well coated and then remove it from the batter holding holding the veggie piece upright so the excess batter drips off towards your hand.  My mom taught me this trick.  It keeps the bhaji from developing "tails" or long pieces of batter dripping off the side (like a tail).  Although she confessed to me that she really like the tails b/c they get nice and extra crunchy.  I'm inclined to agree that I like tails. 
3. Gently roll/drop the bhaji into the oil and fry until golden.  You may need to turn the bhaji over if the oil is not deep enough.
4. Enjoy while hot with ketchup and mint or coriander chutney.     
There are a lot of different variations for bhaji.  My favorite veggies for bhaji are cauliflower, eggplant, potato and onions, and Rajat really likes paneer bhaji.  We made a fresh bowl of mint chutney for our bhaji and the fresh zing of mint really hit spot.
 
Maybe someone out there can settle a little point of disagreement between me and Rajat – are bhaji and pakoras the same thing or different?  I say different.  Bhajis are battered vegetables and pakoras are deep fried, crispy dough bundles.  He says they are the same thing.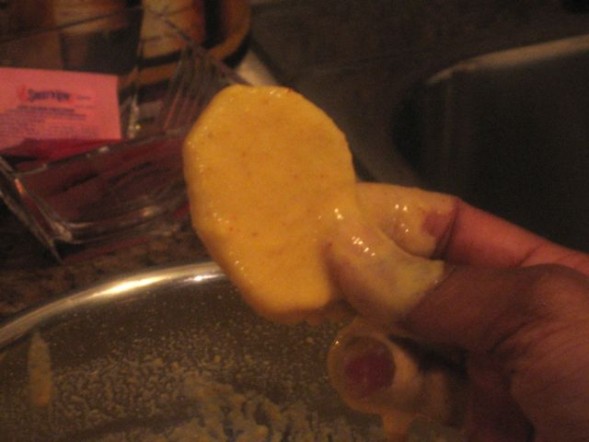 Battering the bhaji – no tails!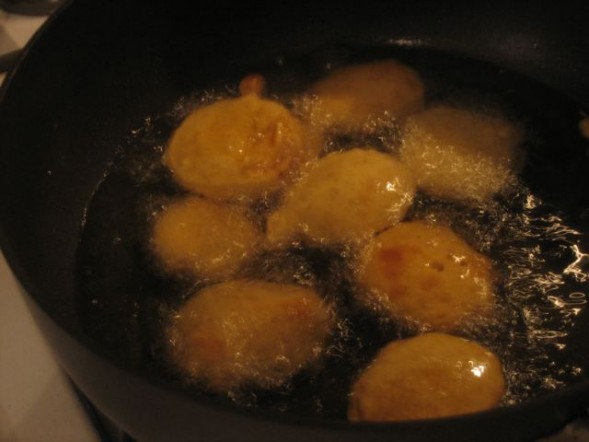 Deep frying the bhaji until golden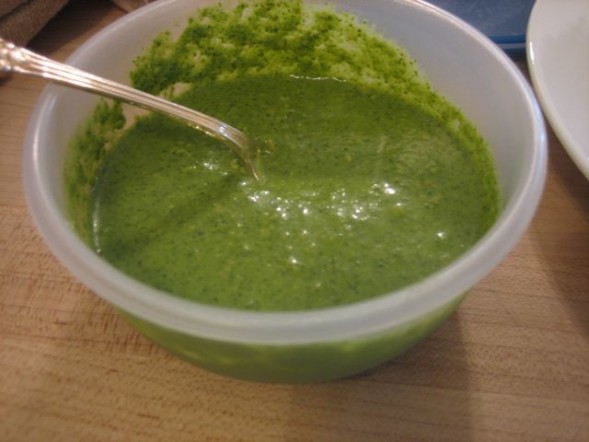 Fresh mint chutney with peanuts and cilantro
Update: Also, on the topic of bhajis, one of my favorite food blog sites, Serious Eats just recently had this post about the UK 's Walkers' onion bhaji potato chips.  I would love to get my hands on a bag of those (or Lay's Masala or Pudina flavored chips…which I think are only available in India) to eat with some rasam and rice.  Mmmm.