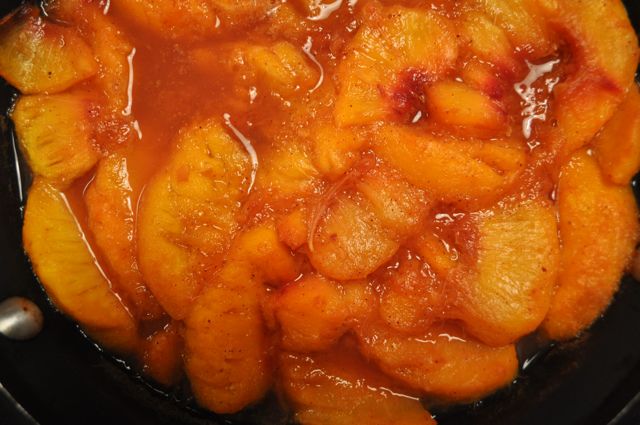 Did you know that even though Georgia is called "The Peach State", South Carolina produces more peaches?  I stink at trivia but for some reason, that factoid from South Carolina history has stayed with me through the years.  Less clear in my mind is why South Carolina is called "The Palmetto State."  Something about a battle and cannonballs comes to mind.  Though come to think of it, I never saw that many palmetto trees in South Carolina.
Peach season in New York is slim.  There's a short window during which you can get juicy, sweet peaches.  The kind that have just the right amount of tartness.  That drip down your forearm with each bite.  That cause you to stand with your mouth hanging ahead of your body to avoid being drenched with peach juice.  That makes you want to suck the peach pit dry.  Ok, it's actually hard to find peaches that good in New York.  But I remember peaches like that from my Southern belle days.
I've managed to find a few of these peaches though.  And I suppose it says something about motherhood that when I do find the good peaches, I covet them for Surya.  So that she too can enjoy the wonders of a juicy just right peach.  The mealy peaches?  Nowadays, I take those.  But I do sneak in a few bites of her delectable peaches – just to "make sure they are cooked right."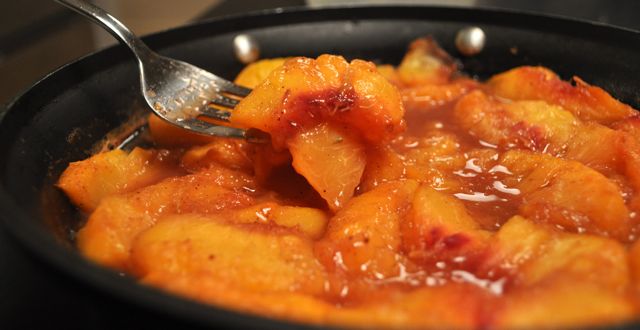 Spiced Peaches
Makes about 2 ice cube trays of peaches
3-4 ripe peaches
1/4 teaspoon ground ginger
1/2 teaspoon ground cinnamon
1/4 teaspoon ground nutmeg
1/4 cup water
Peel the peaches and remove the pits, slicing the peaches into half inch thick wedges.  Heat a wide skillet on medium heat and then sprinkle the spices into the middle of the pan.  Toast for 10-15 seconds until fragrant.  Add the water and stir well.  Layer the peach slices into the pan in a single layer starting from the outside of the pan working your way in.  Cook on medium heat covered for about 10-15 minutes.  Halfway through, gently disturb the pan to make sure none of the peaches are sticking.  Remove the lid and continue cooking for another 5 minutes or so. The peaches should be tender, translucent with an out-of-the-can look and break easily until light pressure from a fork.  Allow to cool and then puree using your appliance of choice.
Serving: Serve these up with yogurt or oatmeal or on their own.
Enjoy with baby: Keep a few of the peaches whole and spoon over toasted, buttered challah bread or mix with yogurt for a treat for yourself.