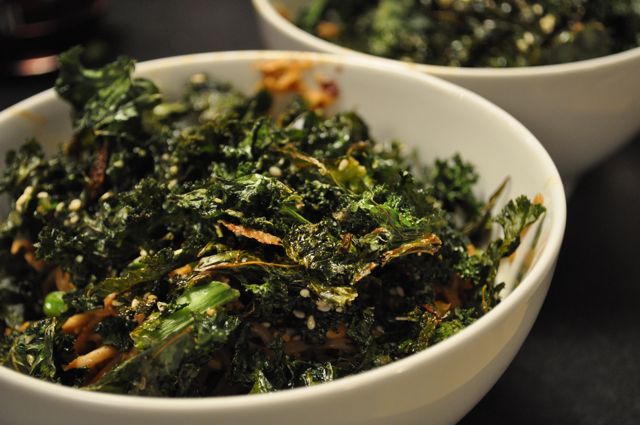 Kale chips have been everywhere. Every magazine and food blogger seems have to have shared a method, recipe and variation.  With each article and post, I rolled my eyes a little. Because we already love kale in my house. In my head I was thinking "I don't need to transform it into a faux potato chip to get my family to eat it."
We eat it with pasta loaded with veggie sausage and garlicky breadcrumbs.  We chop it and up toss into yellow lentils.  We warm up with a bowl of chewy bean and vegetable stone soup with bits of kale.  So why waste any of my kale making into crispy chips?
Because it gets really crunchy. And it has a deep, light flavor scored with the sesame seed oil I splashed over it and sesame seeds sprinkled on top with kosher salt. And and and it's healthy for you.
I topped off a bowl of these Sesame Garlic Soba Noodles with a thick layer of Crispy Sesame Kale from Vegan YumYum
.