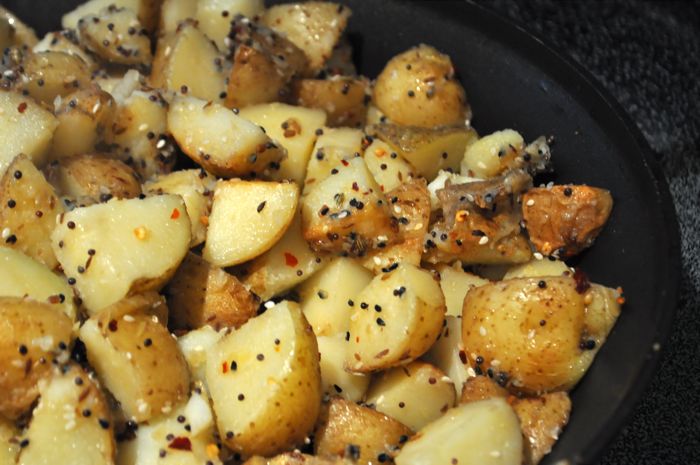 We've been spending our weekends since August on Shelter Island – which means room for Surya to run and play in between "beach time" and "pool time" (and occasionally "ice cream time"). A few times, I've carefully toted my masala dabba along with me  to cook Indian food. Cooking in someone else's kitchen – especially cooking "speciality" food, in someone else's kitchen is hard. It meant blending tomatoes for paneer makhani in a smoothie blender and changing courses on certain recipes. I had planned to make a whole spiced potato recipe from Suvir Saran's Indian Home Cooking, but then realized I left my cookbook back in Brooklyn and didn't have whole spices handy. I had, however, thrown a pack of Panch Phoron in with my kitchen gear and a blend of spices which I wanted to use for making Til Aloo from Indian Food Rocks.
Panch Phoron is a traditional Bengali five spice blend combining nigella seeds, black mustard seeds, fenugreek seeds, fennel seeds and cumin seeds. Each bite is a crunchy mix of whole spices. A little spicy, a little bitter – and in this case, a little nutty and peppery from the sesame seeds and crushed red chili flakes that I threw in.
It was late, I wasn't in my kitchen and I was missing a few ingredients here and there – the result though was tender nuggets of potatoes coated in crunchy whole spices and generous flecks of sea salt.
Each bite of these potatoes is crunchy, nutty, spicy, slightly bitter and zingy - all cut by the crystals of sea salt and the creamy, soft insides of the potatoes.
Ingredients
6-8 potatoes, scrubbed and diced
1 tablespoon panch phoron
1 teaspoon sesame seeds
1 teaspoon red chili pepper flakes
Generous sprinkling of sea salt
2 tablespoons oil
Instructions
Heat 2 tablespoons oil on medium heat in a deep, wide skillet. Add the panch phoron and cook for about 30 seconds until the spices are fragrant.
Add sesame seeds and red chili pepper flakes. Add potatoes and stir until each piece is well coated with spices.
Cover and continue cooking for about 30 minutes or until the potatoes are tender throughout.
Sprinkle very generously with sea salt.
Hungry Desi Copyright 2018