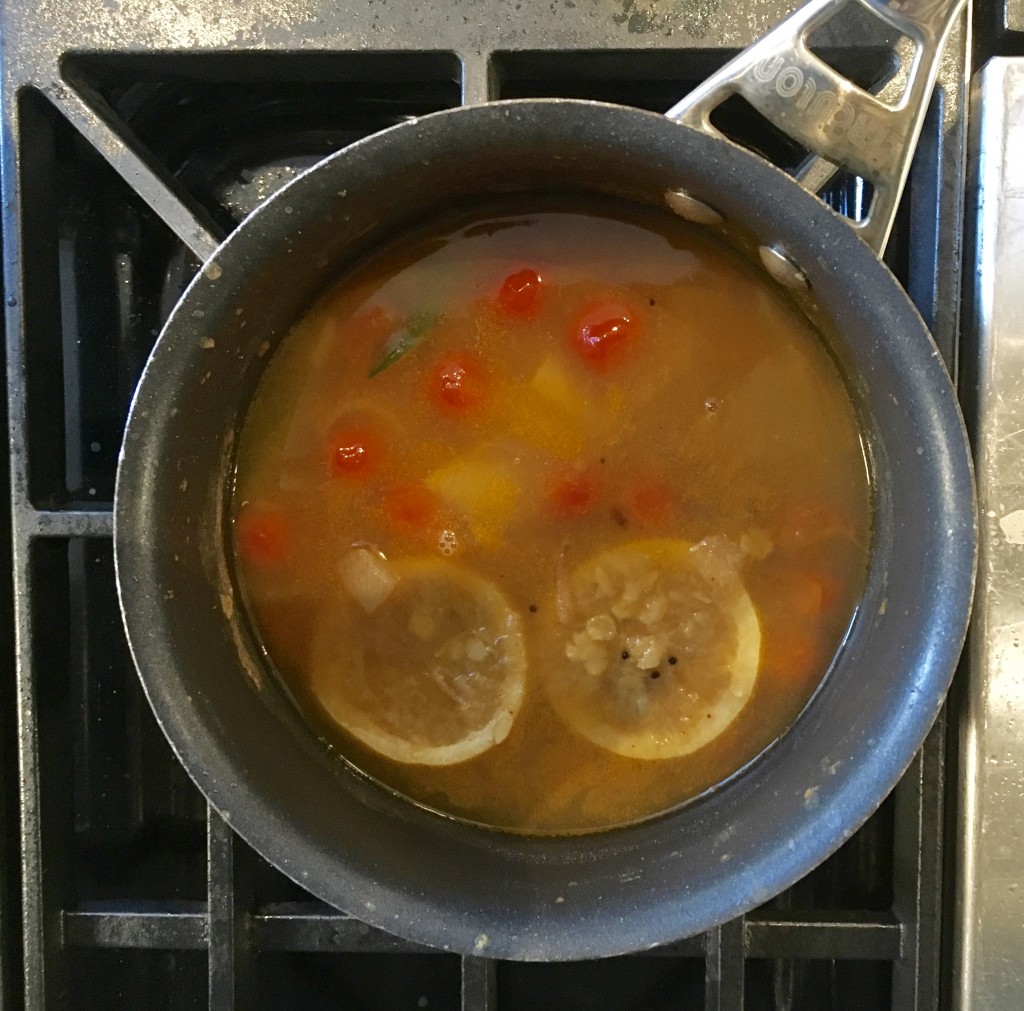 Rasam is spicy, tangy South Indian lentils. When I hear it called 'soup' or described as being served in a shot glass, the snarky part of me shudders. We ate rasam and rice plus a side of a green sautéed veggie basically every night growing up.
It's hard core basic South Indian food. And it's good. Especially if you're sick. It can soothe a soar throat, sour belly and a fever.
The base recipe is to temper the oil with mustard seeds then add green chilis and curry leaves followed by a few tomatoes, rasam powder, water, tamarind juice and then yellow lentils. A few other variations call for using lemon, garlic and cherry tomatoes – individually or like I did below, all together.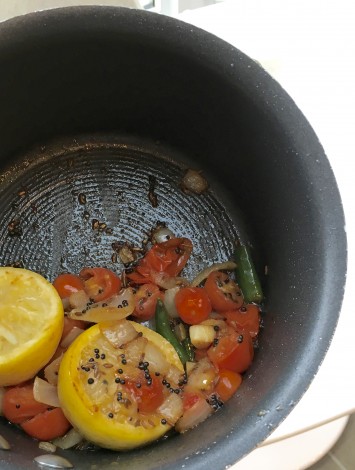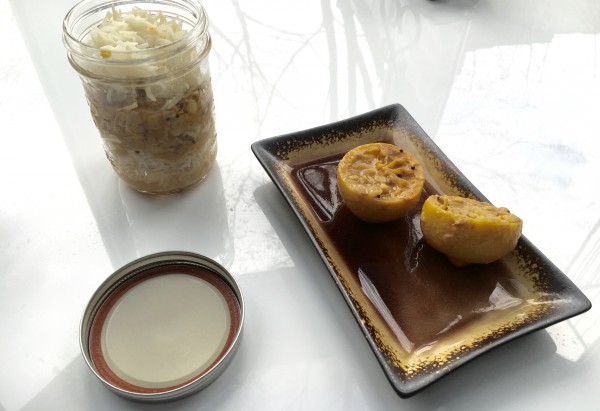 Lemon Spiced Lentils
Ingredients
1 tbsp canola oil
1/4 teaspoon mustard seeds
1/4 teaspoon cumin seeds
2 green chilies, destemmed and halved
3 cloves garlic, diced
Handful of cherry tomatoes, halved
1 lemon, juiced with halves preserved
Rasam powder to taste
2 cups water
1 cup toor daal, soaked overnight and pressure cooked until soft
1 teaspoon salt
Fistful of cilantro (optional), chopped
Instructions
Heat oil on medium heat. Add mustard seeds and cook on low heat until seeds pop and sputter.
Add cumin seeds, garlic and chilies. Cook for 1-2 minutes until fragrant.
Add tomatoes, half of the cilantro and lemon halves, reduce heat to medium low and cook 4-5 minutes until tomatoes melt.
Mix in rasam powder then water, daal, lemon juice and salt.
Bring to a boil then a gentle simmer for 10-12 minutes.
Adjust salt and lemon juice as needed. Top with remaining cilantro.
I don't always have curry leaves because they require a trip to the Indian grocery story, and so I leave them out. The taste doesn't suffer. I experimented with throwing in an entire lemon cut into halves in the pot. It enhanced the taste by creating a perfect lemon garlic harmony. Remove the lemons before packing any leftovers to keep it from If you store the rasam overnight, the lemons may eventually become bitter so better remove them before packing up any leftover.