In New York, Fall is here and gone before we even realize the weather has changed. Mornings with a hint of sunny heat and just right breeze get away from us faster than we'd like.
Frittatas stretch those mornings a little longer. Fast to make. Ready to take on whatever's in the refrigerator. Delicious to eat. A great way to find an extra fifteen minutes to laze over the weekend paper…which I just started getting in paper format.
That's right. A PAPER newspaper. Novel right? Eliminating one of many digital elements has been another great way to stretch time. Reading the news in paper format seems to slow things done to a pace of days gone. Unfortunately recent news from Tulsa and Charlotte are creating a real dent in the pleasure of reading a paper newspaper. Hopefully November will deliver us with change that can move us forward towards a more positive future with gun control and decreased racial and ethnic tension.
But on to lighter topics like this fluffy frittata below…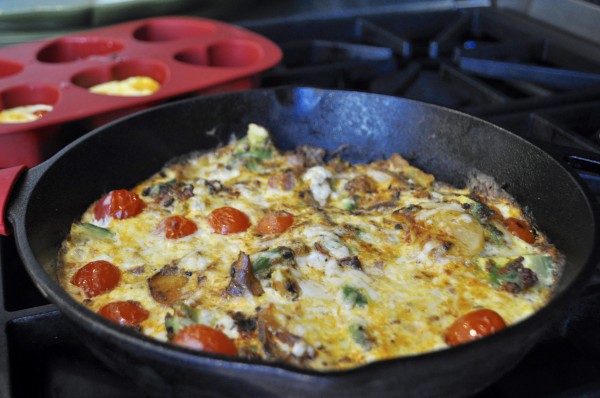 Ingredients
1 potato, peeled and thinly sliced
1/2 red onion, diced
Soy Chorizo (optional)
Handful of cherry tomatoes
1/4 cup pepper jack cheese, shredded
4 eggs
2 tablespoons milk
Salt to taste
Pepper to taste
Instructions
Heat cast iron skillet.
Saute potatoes in a few tablespoons of vegetable oil.
When softened and crispy on outside, add onions,soy chorizo and tomatoes.
In a mixing bowl, whisk eggs with milk, salt and pepper.
Pour egg mixture into cast iron skillet. Make sure vegetable mixture is event distributed.
Stir in the cheese keeping a handful for scattering across the top.
Allow to cook uncovered for a few minutes until eggs look set.
Scatter remaining cheese on top of frittata.
Place in oven on broil until top is browned.
Allow to cool down slightly and then enjoy!
Hungry Desi Copyright 2018