Thai food is a food I hate to love. Mostly because vegetarian Thai curries are incredibly challenging to find. Stop reading here if you are vegetarian and a lover of Thai food. I've ruined Thai curries for plenty of vegetarians and am not looking to add more people to the list.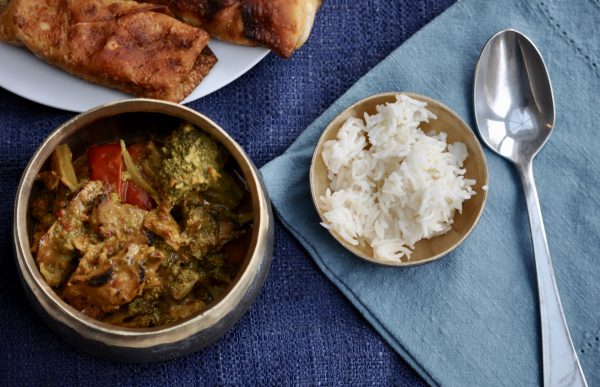 But if you are like me and ask way too many questions, then you probably already discovered that most Thai curries use fish sauce. And most Thai restaurants use pre-made curry paste which contains fish sauce. On occasion, we've found a Thai restaurant that makes their paste from scratch and will omit the fish sauce for us but this is rare and those restaurants seem to have come and gone.
Although I'm still on a near constant hunt for vegetarian friendly Thai restaurants, I've also learned to make a solid red curry paste at home thanks to Bowl by Lukas Volger.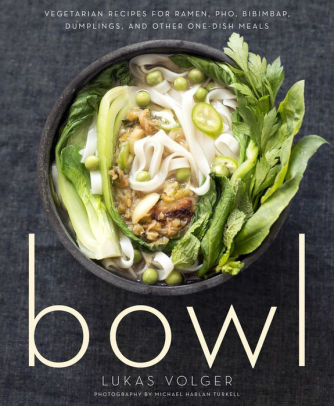 Learning how to make a good curry paste recipe is in the category of "very useful kitchen basics to master." Once you have a good curry paste recipe and a batch of the paste on hand, cooking the rest of the dish becomes very straightforward.
This red curry paste recipe can turn out very spicy depending on the chiles you use, which is perfectly acceptable in my book because it means I always end up with some curry paste to freeze for later. Translation: leftover curry paste for a second meal makes it worth getting out  the spice grinder and the food processor.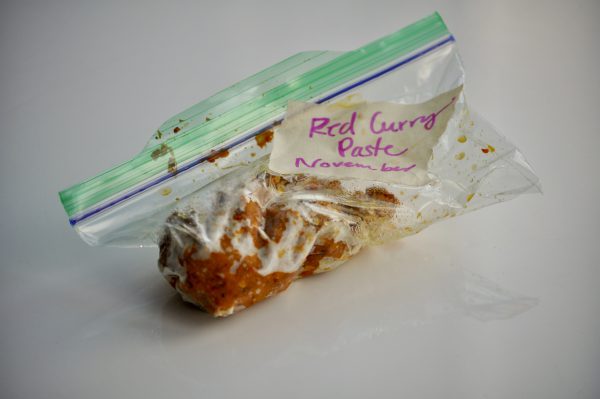 Once you've made the red curry paste, you can use it in a lot of different ways from a big vegetable curry served over rice or ramen or soba noodles or add a bit to scrambled eggs, a marinara sauce or soup base to kick it up a bit.
A hearty vegetable curry is my favorite. I generally pair up whatever vegetables I have in the fridge but focusing on combining vegetables which are a mix of colors and textures will help provide a good balance. I also generally limit it to 2-3 vegetables to avoid overwhelming the curry. Some of my favorite combinations are cubes of tofu or seitan with:
Broccoli, red bell pepper and mushrooms
Carrots, potatoes and kale 
Eggplant, broccoli and mushrooms  
Bonus points if you top the bowl off with a slices of a hard boiled egg, diced cherry tomatoes and a handful of toasted peanuts.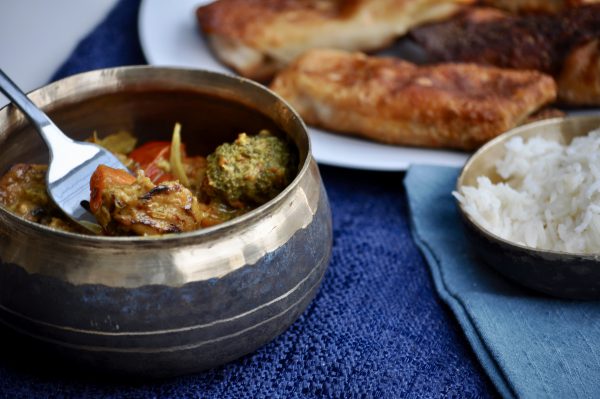 We usually buy a high quality seitan as an alternative to tofu as a protein and texture add for curries and stirfry. After making this seitan – or chickwheat shreds – from Avocado and Ales, I'm not sure we'll go back to the storebought version. The homemade version was softer, more absorbent of the curry sauce and way more cost efficient than buying seitan.
Here's the recipe for Lukas' red curry paste from his book, Bowl, which is one of the most used cookbooks in my kitchen right now. The pictures are beautiful and the book is full of fresh, flavorful vegetarian recipes to make ramen, pho, bibimbap, dumplings and other one-dish meals.
[amd-zlrecipe-recipe:26]