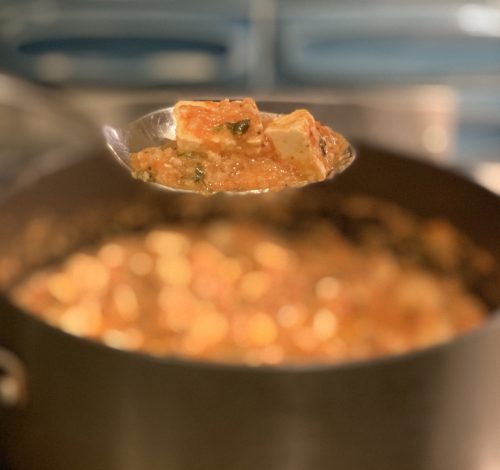 Indian restaurant paneer makhani is next level comfort food…creamy tomato sauce, mild spice in the background and pillowy cubes of chewy paneer. It's not surprising that paneer makhani has become Surya's go to Indian food.
Of course, this means that any paneer makhani that I make at home has very strong competition to measure up to restaurant paneer makhani. Like most 9 year olds (happy birthday to my newly minted 9 yo!), she's not persuaded by  my rationale argument that my recipe doesn't call for heavy cream and loads of butter.
But this version of paneer makhani has elicited a "restaurant worthy" response from the family. It uses a cashew sauce for creaminess. My original recipe calls for almond butter or cashew butter plus yogurt to get that creamy consistency. Both are winners but this version is tops in our house for right now.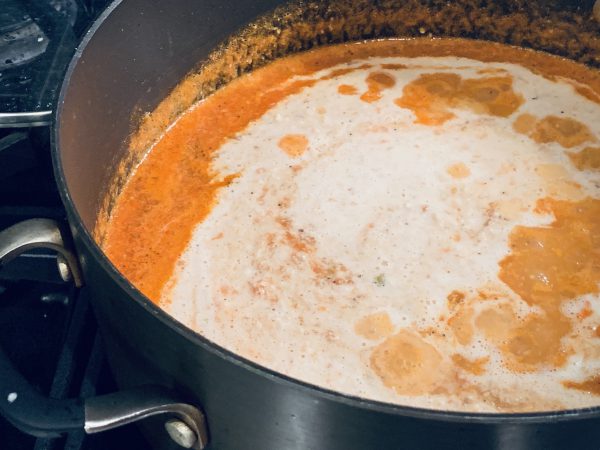 Removing the skins from the tomatoes is another key step to achieving a smooth, restaurant style sauce. It also helps to bring out the juices in tomatoes which is great if you have a few less than plump, red tomatoes on hand.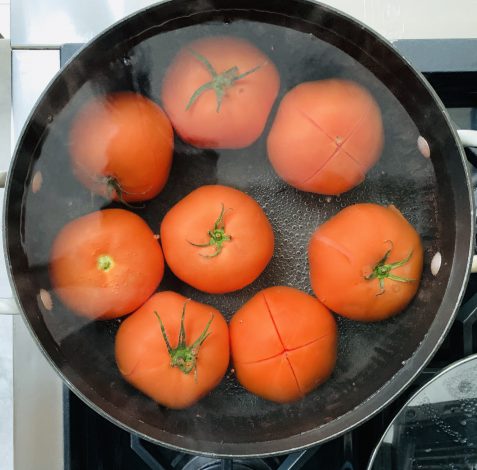 To skin tomatoes, you simply cut an "X" into the bottom of the tomato like shown above. You only need to go an inch or so deep, not all the way through. Drop the tomatoes into boiling water for a few minutes until the skins start to peel. Take them out and place in a colander then run cold water over them. When they are cool enough to handle, the skins slips right off.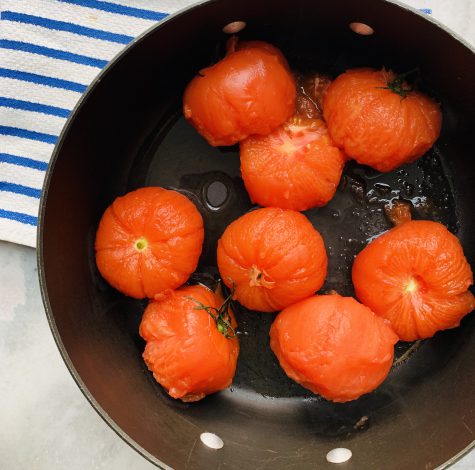 You can easily substitute tofu, seitan or chicken for the paneer in this dish. Chickpeas would also work well.
Let's talk about paneer for a minute because I get a lot of questions on this front.
Do I make my own paneer? I generally do not make my own paneer sheerly out of a lack of time and pre-planning. Also, it take a lot of milk to make not a lot of paneer.
Where can I buy paneer? You can find paneer at any Indian grocery store. I recommend buying it from the refrigerated section rather than frozen section if possible because it is softer when it has not been frozen.
What brand of paneer do you buy? I used to buy Nanak brand paneer, but more recently I have found that Swad brand paneer is softer and tastes fresher. It has a long shelf life so I buy a few packages and keep them in the refrigerator. If the paneer does not feel fresh and soft when I take it out of the package, I cut it then drop it into a pot of boiling water for 3-5 minutes.
Do I have to fry the paneer? I often am asked if the paneer needs to be fried before putting it into the curry. While I do fry it for some curries, I find that it is not needed for this thick, rich tomato sauce. So I cube it up and drop it right into the sauce. See above for my note about putting it into boiling water to soften it up if needed.
[amd-zlrecipe-recipe:28]