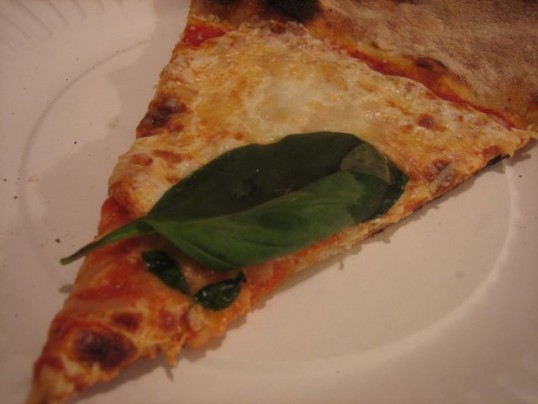 If a picture is worth a thousand words, I should warn you that this photo is of a cold slice.
When we're not cooking in our Brooklyn apartment, Rajat and I make it a hobby to find new restaurants that are (A) delicious and (B) vegetarian friendly (of course).  I've been wanting to share reviews of the some of places we discover, and the pizza we had at Lucali in Carroll Gardens a few weekends ago was just the motivation I needed.
Lucali caught my attention when we saw it on Zagat's 2009 Top Pizza in NY list.  After choking on my chole that Joe's had been unseated from the top 5, we decided we had to try Lucali.  A top 5.  The number 1.  Right in Brooklyn.  
The thing about the atmosphere is: The space is amazing in that it's completely understated.  The kitchen is open and tiny and so is the restaurant.  The walls are barren save for a high shelf with a row of colored, mismatched bottles, an old timey sign and a blackboard with "Today's Menu."  And the menu is equally sparse – pizzas and calzones.  Nothing else. 
Lucali's is full of little details that make it feel warm and charming without being kitschy – dim lights with antique-y, handheld candlesticks dotting the tables , an old fashioned cash register and farmhouse style tables.  
What we ate: We settled in for the plain pizza – fresh cheese, tomato sauce and basil – and then, we heard Franky, playing just loudly enough in the background to make you feel lightheaded and warm, thinking "It's good to be in New York."   
We'll go here even in a recession b/c: As we giddily walked towards Lucali, Rajat summed it up nicely by noting that not only were we trying the "Number 1 pizza in New York" but we were also "taking our own beer."  BYOB in recessionary times is sort of awesome.   I can only add that we also easily found street parking.
Great for a night that's: cold outside because it's warm and cozy inside.
Tip for you: Call ahead and get on the list – we called at 8 p.m., placed our name on the list, were informed that the wait was about 1 and 1/2 hours and received a call promptly at 9:30 p.m. that our table was ready.  Although I've heard from others that sometimes all you get is a busy signal, so weeknights are good bet too. 
Verdict: Wood fired oven pizza, thin crust with a slight crunch to it w/o being crispy, crust you want to eat, fresh mozzarella and basil and a tangy, tomato sauce.  All for $24 (which, as the blackboard informs you, includes tax).
Here's our top ten places to grab a pizza:
Top Five (in no particular order):
1. Al Forno in Providence, RI – a short drive from Boston, this is a fun, romantic restaurant with 3 bars inside serving you wine while waiting for a table.  Last I checked, no reservations permitted.
2. Onkel Tom's Hutte (yes, that does really translate to Uncle Tom's Cabin) in Grindelwald, Switzerland – a tiny, warm cabin in the middle of the Alps serving fresh pizzas from a hot iron stove and Amstel so cold it seemed pumped directly from the brewery.
3. A tie between Campo Di Fiori and Da Baffetto  in Rome, Italy  – I voted for Campo and Rajat voted for Baffetto.  You're in Rome though. Seriously.  Good pizza is everywhere.  
4. Joe's Pizza on 6th and Bleeker in New York, New York – Rajat made me pay homage to Joe's before we got married.
5. Kinchley's Tavern in Ramsey, New Jersey – my favorite pie is the garlic pizza and the pizza with hot cherry peppers.  I can eat almost one all by myself.
Bottom of the Top Ten (in no particular order):
1. La Villa in Park Slope, Brooklyn, New York – La Villa looks Olive Garden-esque from the outside, which deterred us for awhile, but the wood fired oven pizza itself is thin, fresh and in our opinion competes well with Lucali.  Update: We went back to La Villa last night (about a week or two after I wrote this post, and I really feel that while the ambiance is only so so the pizza is delish – soft crust, slight crunch, melty, gooey fresh cheese with a mildly sweet tomato sauce.
2. Figs in Beacon Hill, Boston, Massachusetts – cozy restaurant and thin crust, crispy pizza that borders on gourmet using fresh ingredients.
3. Flatbreads in various locations in New England – they have a vegetarian only pizza cutter.  Do I need to say more?
4. Lucali in Carrol Gardens, Brooklyn, New York – see above.
5. Singha's Famous Pizza in New Jersey and New York – a low key, fast food-esque  pizza place, desis flock here for the thin crust pizza with equally thinly sliced veggies.  
I've read a lot of really great recipes for making pizza at home, and the idea appeals to me b/c I could use toppings of my own choosing – like tandoori paneer or something crazy.  But really, I prefer to leave my pizza to the pizza making experts.  Where's your favorite pizza place?