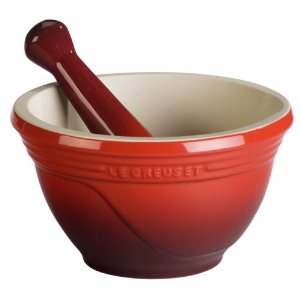 Note: This contest has now ended. Congratulations to Meera, lucky #2!  Thanks to everyone for entering and sharing your favorite Indian dish!  I have some fabulous new ideas.
I neglected Hungry Desi's first birthday.  And then its second birthday.  So I am ringing in my 100th post to Hungry Desi with a giveaway.  A little thank you to all of those who make it fun for me to blog about cooking Indian and vegetarian food, to those who read about my adventures in feeding my new daughter and who try out a recipe and are kind to let me know how it turns out.  And a welcome to those of you who may be new here!
The contest rules are simple.  To win this Le Creuset Stoneware Mortar and Pestle
, just leave a comment telling me your favorite Indian dish.
You can get up to two additional entries (for a total of three entries) if you share a link to this contest on your blog, Twitter or Facebook or add Hungry Desi to your RSS Feed. Don't forget to leave an additional comment on this post for each additional action.
For example, you might want to tweet: @nithyadas is giving away a le creuset mortar and pestle on hungry desi.  leave a comment at http://tinyurl.com/6cyp6hd to win!
A winner will be selected via the random number generator next Friday, February 4th at 8:00 pm EST and then I'll arrange to have theses items shipped to your home. (Note: Unfortunately, this is only open to U.S. residents).  Best of luck!