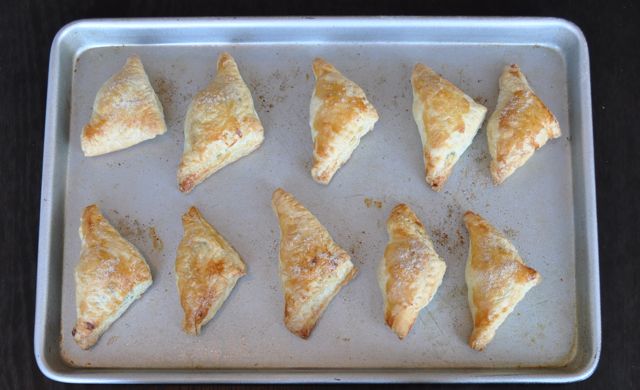 Puff pastry is an ingredient where no matter what you stuff in it will lead to delicious-ness. So go figure if you stuff it with spiced potatoes and peas, you end up with flaky, buttery, spicy delicious-ness. For Super Bowl Sunday, my friend Jason came over and we formed a samosa stuffing assembly line. Then we tried really hard to resist eating them all. Then Jason left to go home, and Rajat, Surya and I tried really hard to resist eating them all. We knocked back three or four, but no one was the wiser.
Puff Pastry Samosas (makes about 30)
I looked at a few different recipes and then winged this, tasting the potato and pea mixture before we spooned it onto the rolled out puff pastry. Here's a no recipe, recipe – I ended up with lots of extra filling which we used in a few different ways and I also did a lot of tasting and adjusting before stuffing the samosas. The chat masala at the end is optional, but if you have it, it adds a little tang which will have people licking their fingers after they eat the samosas. Always a nice outcome.
Ingredients:
2 packs of frozen puff pastry
4 potatoes, boiled and cubed into 1/2 inch pieces
1 teaspoon cumin seeds
1 1/2 cups frozen peas
Coriander Mint Chutney
1 egg
Chat masala (0ptional)
1. Preheat the oven to 400 degrees.  Set the puff pastry on the counter so it can thaw.
2. In a large skillet, heat a tablespoon of oil. Add cumin seeds and cook until they sizzle. Add peas and cook covered for about 8-10 minutes until peas are softened. Stir in the potatoes and cook another 5-10 minutes. Stir in ~2 tablespoons of coriander/mint chutney. Add salt to taste. Taste the mixture for spice and salt.
3. Whisk an egg with a pinch of salt.
4. Cut the puff pastry along the seams into 4 rectangles. Place one rectangle on a floured surface and roll out slightly with a rolling pin. Cut into equal sized squares. Spoon about a teaspoon of the filling into the center of each square.  Rub two sides with the egg mixture and fold over to form a triangle. Use a fork to score the edges. Brush a little egg on top before baking.
5. Bake for about 18-20 minutes or until golden on a greased cookie tray. Sprinkle with chat masala as soon as they come out of the oven. Serve with the coriander/mint chutney and ketchup.
We made these ahead of time, layered them unbaked in tupperware separating the layers with parchment paper and froze them. The first batch reheated okay, but we thought the fresh from the oven batches were better.