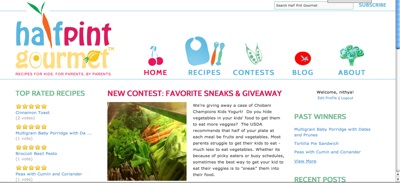 Dear Friends, I wanted to share a new site that I helped launch last week, Half Pint Gourmet, a website for kids recipes developed by parents, for parents.
As a new mom, I often find myself stuck in ruts. And yet, I care a lot about food and what Surya is eating. It's important to me that she eat a well balanced diet of food that spans the culinary spectrum with changing flavors and textures. It's also important to me that I have recipe ideas in my back pocket because I find that without a well stocked pantry, freezer and fridge, fresh food is unlikely to make its way to the table. This resulted in emails back and forth to other parents with ideas for new finger foods, vegetables to try etc. etc.
So together with my close friend and fellow mom, Christina, Half Pint Gourmet was born. We'll run a themed contest about every two weeks and then recipe test the top entries before finally selecting the Editors' Picks. There's also a blog with gadget reviews, Q&A with an expert, nuritional information and menu planning.
We kicked things off with a contest calling for your Favorite Sandwiches. Head over to Half Pint Gourmet, register, and Submit a Recipe for your favorite sandwich before 11:59 p.m. EST on Monday, August 29th.  For now there's no "prize" associated with winning a contest other than the pride of being an Editors' Pick and knowing that you just made some little person's meal more interesting. We'll be hosting giveaways soon though so stay tuned!
We'll also be doing profile posts of parents in a series called Beyond the Bib which will short looks in what you feed your little one and your family. If you're interested in being featured, leave a comment below.
Cheers,
Nithya