A young woman asked me recently during a career panel at my office about my time management tricks. The idea presumably being that I am able manage having a busy job while being a mom and having a spouse who also works. (In case you are wondering, chronic multitasking. Also, it's definitely not always pretty.)
I told her a few of my go to tips like living by my calendar (my 6 year old asked me to put "Getting a Dog" on my calendar), surrounding myself with an amazing team (at work and at home) and being okay not being in all of the details (I do not care how my dishwasher is loaded so long as my dishes are clean).
This weekend, I was standing in my kitchen thinking about how cooking a big meal is the ultimate time management exercise. I'm very efficient in the kitchen. Here's my playbook: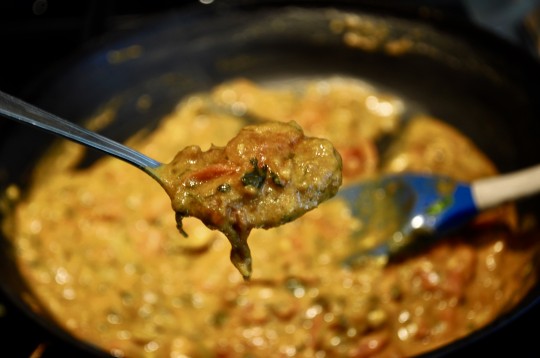 (1) Plan the recipes out before starting and lay out your ingredients
(2) Identify what takes the longest time to prep/cook or what goes in the pot first (usually the thing that takes the longest to cook) and then start there. I always chop onions and bell peppers first and tomatoes last.
(3) While those first long lead time items cook, start prepping the next ingredient.
(4) Get the first dish to a point where it needs 8-10 minutes of un-closely supervised cooking. Start prepping the next dish.
I plan. I prepare. I identify my desired end result. I identify the steps. I figure out how much time I need in-between them. Then I attack key dependencies first and work in steady increments towards my end goal keeping timing and next steps in mind at each turn. I also recruit a good sous chef.
My approach to cooking is sort of my approach to getting anything done – whether it's braising a whole head of cauliflower and dunking it in creamy makhani sauce, closing a cross-border multimillion deal or figuring out how to get a 6 year old dressed, fed and out of the house (the most challenging and rewarding item on this list).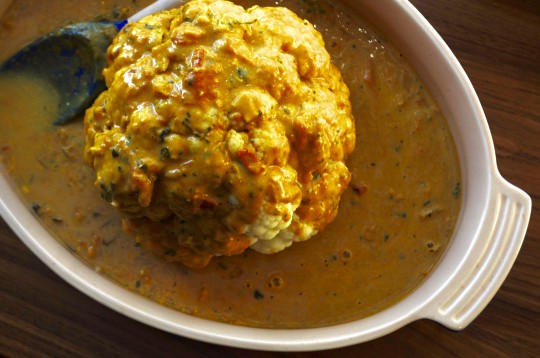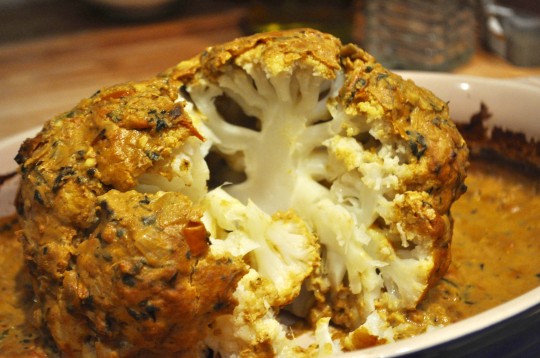 Cauliflower Makhani
Whole head of cauliflower in a creamy, tangy tomato sauce.
Ingredients
1 cauliflower head (leaves and stem trimmed)
4 juicy, ripe tomatoes, skinned
2 green chiles
1 tablespoon ginger-garlic paste
2-inch stick cinnamon
½ teaspoon coriander powder
¼ teaspoon cayenne pepper
¼ teaspoon garam masala
1 tablespoon dried fenugreek leaves
1 teaspoon black poppy seeds
1-2 tablespoons cashew or almond butter
2 tablespoons yogurt, whisked until smooth
2 teaspoons salt (to taste)
1 –2 teaspoons sugar
Instructions
Preheat the over to 350 degrees.
Fill a large pot (deeper and wider than cauliflower head) with water and bring to a boil.
Place the cauliflower into the pot stem down. The water should cover the top of the cauliflower. Cook for 3-4 minutes. Flip the cauliflower over so it is stem up and cook another 3-4 minutes. Remove cauliflower to a pan stem down to drain.
Quarter tomatoes and puree in a food processor with the green chilis.
Add cooking oil to a deep skillet on medium heat. Add g-g paste and cinnamon stick and cook for 30 seconds.
Add the tomato-chili puree and cook for about 10 minutes until some liquid has evaporated and oil separates.
Stir in all of the spices and the almond butter. Cook for another 8-10 minutes.
Fold in the yogurt. Add salt and sugar.
Place the cauliflower stem down into a baking dish. Pour sauce over the cauliflower, spooning over to make sure it is well coated. Bake for 40 minutes until sauce thickens. Spoon extra sauce over the cauliflower.
Serve with rice or naan.