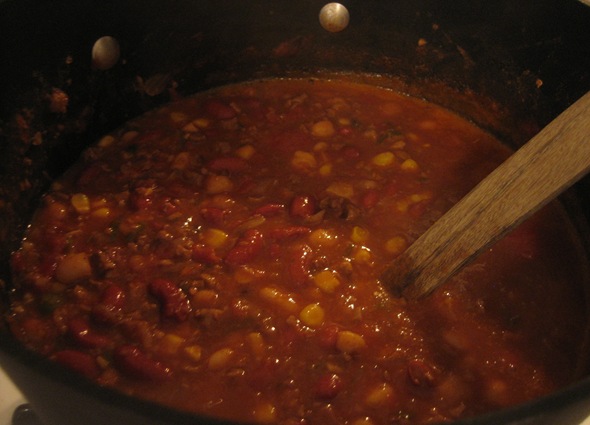 When winter hits, thoughts of a steaming bowl of hearty, vegetarian chili makes the wind slapping my face, the ringing chill in my ears and frostbite in my fingers seem a little less awful.  A stockpot of it warms up our house and our bellies for a few days.  I like to top mine with shredded, cheddar cheese and fritos (yes, as in Frito O'Lays –  great for scooping up the chili) but it's also just as good plain, topped with diced, raw onions or with a dab of sour cream. 
Vegetarian Chili
(makes a lot…~10-12 bowls)
Grocery:
2 19 oz. cans red kidney beans
1 19 oz. can white kidney or cannellini beans
1 19 oz. can chick peas
1 28 oz. can of whole peeled tomatoes or stewed tomatoes
2 beefsteak tomatoes, diced
1 yellow onion, diced
2 green chili peppers
3 cloves garlic, diced
1 cup frozen corn
Handful of mushrooms, diced
Masala Rack:
2 tspn. salt 
1-2 packets chili seasoning*
Staples:
1 32 oz. carton vegetable broth
1 packet of soy protein crumbles**
1. Heat about a tablespoon of oil (I use olive oil) in a stockpot.  Add onions, garlic and peppers and cook until the onions are translucent. 
2. Add the soy crumbles, corn and mushrooms and cook until the crumbles are no longer frozen and starting to brown (about 10 minutes)
3. Add the diced tomatoes.  Gently run a kitchen knife or kitchen shears through the can of whole tomatoes so the pieces get cut up.  Add the entire can (with juice) to the stockpot along with the carton of vegetable broth. 
4. Stir in the packets of chili seasoning and salt.*
5. Open all of the canned beans, pour them into a strainer and rinse under the faucet in cold water.  This reduces the amount of sodium and apparently gets rid of some of the gas-producing sugars (okay, not appetizing but important right?!).  Add to the stockpot. 
6. Cook on medium heat, uncovered for about 30 – 40 minutes until it reaches desired consistency.  Taste to see if you need more salt.
Not only is a bowl of chili warming but it's main ingredients store well.  In our house, a few extra cans of beans, stewed tomatoes, vegetable broth, soy crumbles, frozen corn and chili seasoning are staples so I keep them on stock.  One of the biggest reasons people don't cook is because they don't have time to first go grocery shopping.  So, the next time you go to the grocery store, stock your kitchen with these…that way, you can make chili on a whim without a lot of prepping and pre-planning – all you'll have to do is pick up the fresh produce.
*I use Simply Organic spicy chili seasoning.  It's a mix of sea salt, red chili peppers, garlic, cumin, cayenne, oregano, coriander, black pepper, cloves, allspice.  To be honest , it's almost exactly the same stuff that's in taco seasoning so when I can't find chili seasoning, I use taco seasoning. Depending on how spicy your seasoning is, one packet may be enough.  We used taco seasoning this time and needed two. 

**Tofu is a good, though less chewy substitute for crumbles.  Take a block of tofu and crumble it with your hands.  Pan fry with a little oil until golden.