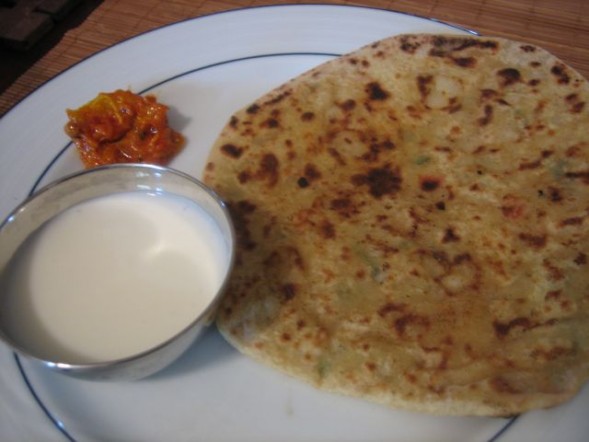 Warm, generously filled parathas (stuffed Indian flatbread) remind me of cold, wintery mornings at my husband's family's house in Delhi. We wake up to be treated to hot parathas and steaming chai. Despite our "protests" against such a heavy breakfast and "pleas" for no butter, we let our plates be filled with hot paratha after hot paratha, even getting bold enough to make a special request for Gobi Parathas the next morning.
One reason I love cooking is because it lets me recreate, through food, cherished memories of places and loved ones. So, while Indian bread making has always been a a challenge for me, the task of making Aloo Parathas was a test I was willing to work at. I assure you – while it's a time consuming activity, it's really not that hard. And when you dip the spicy, potato filled bread into yogurt, top it with a smear of lemon pickle and place it in your mouth, you'll be immediately transported to that warm place where aunties buzz busily around you, taking care of your every want, seeing to it that your belly is full and your plate even fuller.
Parathas can be made in many different varieties – gobi, channa daal, methi, mint and paneer are among some of the more common…what's your favorite?
Aloo Parathas (Spiced Potato Filled Flatbread)
~makes about 12~
Dough:
~5-6 cups Atta (whole wheat chapati flour)
1 tspn. salt
~1-2 cups lukewarm water
Aloo Filling:
4 medium sized potatoes, boiled and peeled
1 plum tomato
2-3 green chilis, finely diced
1/4 white onion, finely diced
Handful of cilantro, chopped
2 tspn. salt (more to taste as needed)
1 1/2 tspn. amchur powder (dried mango powder)*
1 1/2 tspn. cumin powder
1 1/2 tspn. coriander powder
1/4 tspn. lal mirch
*Amchur powder gives the potato filling a tangy, sour kick.  You can substitute chaat masala or anardhana (pomegranite powder).  If you don't have any of those, use a splash of lemon juice.
Preparing the Dough:
If you can make the atta the day before, that's preferable so it gets a chance to sit overnight. If you do make it the day before, take it out before you're ready to use it, open the container, and do step 4 below then let it sit for a few minutes before using. If you make it the same day, let it sit for 10-15 minutes before using it.  R's mom stopped by on Sunday and taught me how to make the dough.  Here's her method.
1. Pour the atta (flour) into a large steel bowl. My MIL's tip is to then sift through it with a sieve, but since I don't own one and b/c I think step is largely for situations where your atta may have undesirables in it (i.e. flour bugs and weevils) and mine was fresh and stored in the freeze, we skipped this step.
2. Mix in about 1 tspn. salt.
3. Slowly pour the water into the bowl a little at a time. Resist the urge to pour all of the water in. The flour will start to turn into small doughy pieces. Work your way through the flour portions at a time, adding more water as the flour is transformed into dough and kneading portions as you go – using only as much water as is necessary to get soft, elastic-y ball of dough.
4. Once all of the flour has been transformed into dough, rub a thin layer of water over the surface of the dough ball and give it three or four good kneads with your fist. Let the dough sit for about 5 minutes.
5. Rub another thin layer of water over the surface of the dough ball and give it another three or four good kneads. Put it into an air tight container and store in the refrigerator.
Preparing the Aloo Filling:
1. Take the boiled and peeled potatoes and finely mash them. You should use a masher or ricer, but seeing as we don't own either of those kitchen utensils, we used our hands and a wooden spoon. Try to get as many lumps out of the potatoes as possible b/c they make rolling difficult.
2. Chop the tomato in half and then squeeze the water out like you would squeeze a lemon. The seeds and tomato juice should come out.
3. Finely dice the tomato and mix it into the aloo.
4. Mix in the remaining ingredients and spices. Adjust the spice and salt to taste. If the aloo tastes under spiced, just add a little of each dry masala in a similar proportion.
5. Tear off portions of the aloo mixture and roll into balls between your palms.
Making the Parathas: Set up your workspace. Use a wooden cutting board sprinkled with atta to prevent sticking. Keep another bowl of atta handy for the rolling process.
1. Tear off a piece of the dough and make a ball by rolling it between your palms. The ball should be a little bigger than a golf ball.
2. Dip the ball into the bowl of atta and shake off the excess atta. Place the ball on the floured surface and roll it out into a circle.
3. Place the aloo ball in the middle of the dough. Gently press it down with your thumb.
4. Fold the dough over the aloo – first the back flap, then the left side, the right side then the front flap. Press the center down then dip the disc into the bowl of atta and shake off the excess atta.
5. Flour the surface again. Place the disc with the folds up. Gently roll out the disc out. You may be able to see the stuffing a little through the dough but don't despair. Just keep on rolling on until you have a thin, wide disc.
6. Place the paratha onto an oiled, hot tawa (iron skillet). Let it cook on each side until golden brown with some golden brown spots. Use a spoon to smear a little oil onto each side of the paratha and cook again for about 30 seconds on each side. You can use less oil for this step but don't skip it because the paratha will get too dry…just use less oil and either canola or olive oil.