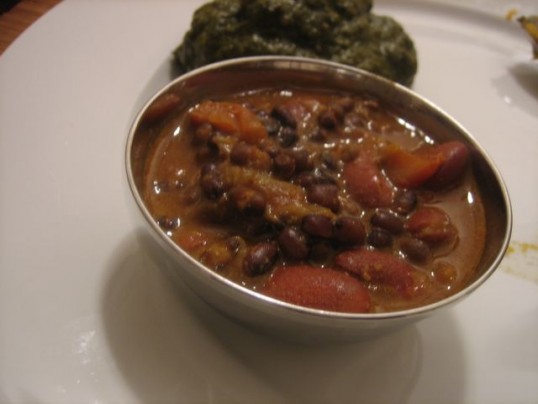 I've tried twice now to make Daal Makhani in my slow cooker. The first time was an utter disaster. I'll call the second time an "orchestrated" success. After slow cooking the daal for 8 hours, it was still a little tough. We were tired of waiting and ready to eat it with our palak channa, so I cheated. I emptied the contents of the slow cooker bowl directly into the pressure cooker  and let it cook for 10 minutes. The result was creamy, soft masala spiked daal, but I can't in good conscience pass it off as 100% slow cooked Daal Makhani. Sometimes, cheating is okay.
70's housewives were on to something good with slow cookers. With a little pre-planning, you throw everything into the slow cooker, let the slow cooker do all of the work and a few hours later emerges a dish that has that "slaved-over-the-stove" look. Genius. This brings me to the first reason why I've been mildly obsessive over trying to make Daal Makhani in my slow cooker (it's a 3-in-1 Rice Cooker, Slow Cooker and Steamer
).  The second reason is that I read somewhere that Tamarind Bay in Harvard Square has such decadent Daal Makhani because they let it cook overnight in the tandoor and use loads of ghee.  We don't have a tandoor and I refuse to use ghee, so successfully slow cooking the Daal Makhani is the closest I can come to having that at home.
If you make slow cooker Daal Makhani and are more in sync with your slow cooker, I would love to hear your tips in the comments.
Slow Cooked Daal Makhani
~makes 8-10 servings~
Grocery:
1 1/2 cups dried whole urad daal, soaked overnight
1 28 oz. can red kidney beans, drained and rinsed in cold water
1 onion, finely diced
2 tbsp. ginger-garlic paste (or 3 cloves garlic and 1 inch piece of fresh ginger, finely chopped)
3-4 green chilis, sliced
2 beefsteak tomatoes, diced*
1 cup low fat yogurt, whisked until smooth*
1/2 cup milk (I used 2 percent)*
*These ingredients will not be added until the slow cooking is complete.
Masalas:
1 tspn. lal mirch
1 1/2 tspn. coriander powder
1 1/2 tspn. cumin powder
1 tspn. garam masala
1 tspn. turmeric
2 tspn. salt or to taste
The first time I attempted this is in my slow cooker, I made two mistakes – First, I didn't soak the urad daal overnight because when I use my pressure cooker only, that's not required. Whole urad daal, however, has a tough husk, so you should soak it overnight when slow cooking. Second, I added the tomatoes and salt to the slow cooker bowl at the beginning of the 8 hours. After reading Robin Robertson's Fresh From the Vegetarian Slow Cooker, I learned that high acidity ingredients (like tomatoes and salt) should not be added until the very end because otherwise the lentils remain tough.
1. Turn the slow cooker on. If you're slow cooker has High-Medium-Low settings, I recommend high. Heat about 1 tbsp. oil in the slow cooker bowl.
2. Soak whole urad daal overnight. Drain the excess water and sift through it for any stones or other debris. Open a can of kidney beans, drain the canned water and rinse in a colander in cold water.
3. Cook the onions in the slow cooker bowl with the lid open until translucent. Add the ginger-garlic paste and chilis and cook for 2-3 minutes.
4. Add all of the masalas EXCEPT for the salt. Mix in well.
5. Add the urad daal and kidney beans to the slow cooker bowl along with 3 cups water. Close the lid and set to cook for 8 hours. Robin offers another tip for successful slow cooking – don't lift the lid to peek. We broke this rule approximately 3 times. Over an 8 hour period, who can resist?!
6. Go do something fun. (I'm a little OCD and don't like the leave the house while my slow cooker is running. You'll find zillions of consumer reviews on-line telling you this is perfectly safe to do.)
7. Close to the 8th hour, saute the diced tomatoes in a hot saucepan on medium-high heat with just a little oil (1/4 tspn) until they melt. Turn the heat to low and whisk in the yogurt and milk. Remove from heat.
8. When the slow cooker signals it's complete, stir the tomato mixture in and add salt to taste. If your lentils still feel a little undercooked, don't be embarrassed to do what I did. Dump them into the pressure cooker for 10 minutes or 1 whistle.
9. Garnish with fresh, chopped cilantro.
The fact that I had to use my Fagor pressure cooker
after all those hours of slow cooking (albeit effortless hours on my part) has left me with some deeply philosophical questions about whether there was any real value in slow cooking the Daal Makhani. Rajat's verdict is that while the Daal Makhani was tasty, the 8 hours wasn't necessary and if I just stuck to the pressure cooker, it would have been as good. I can't help but feel like the daal got a richer, heartier flavor over the course of the 8 hours. Also, my pressure cooker daal is usually far too dry, whereas in the slow cooker, less liquid evaporates leaving more of the masala spiked, creamy liquid (delicious for dipping naan in). Perhaps most importantly, it's not as though we actually expended any effort apart from resisting urges to lift the slow cooker lid during the 8 hours – so there's nothing lost.
I would love some slow cooking tips because until then, I'm sticking with the 99.98% slow cooker method since it did hands down lead to the best Daal Makhani I've ever made.  Update: Maybe a daal without as tough of a husk would fare better in the slow cooker without a need to pre or post pressure cook.  I'm thinking about maybe trying Masoor Daal or even Toor or Chana Daal…any thoughts?