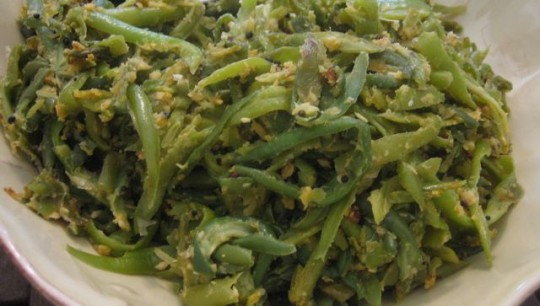 My dad made french style green beans almost once a week growing up, usually as a side dish with rasam or sambar.  We accidentally discovered that we liked them just slightly blackened when he sauteed them a little too long once and more than a few got singed.  I think to this day my sister makes them just a little blackened (although I can't say if it's intentional or not!).  
Until this weekend, I had never cooked my dad's french style green beans.  He always uses the frozen variety, but on Friday I went grocery shopping and carted around the fresh produce aisle looking for this particular variety of beans thinking I would make them "fresh".  I couldn't find anything of a similar name or look, so I perused the frozen food aisle.  My eyes landed on the beans I was looking for, and I laughed out loud as I read the label which said "French Cut Green Beans."  I never realized these are just regular green beans but julienned "french style".  
No doubt some of you out are probably thinking I am totally clueless (!), but I guess this is one of those things that I grew up with and never had reason to question until now.  It's kind of like how I thought "fushcloss"and "ayyyvuhn" were words for "great" in the Telegu/Tamil mix my family speaks only to realize they were just an accented pronunciation of "first class" and "A one" or that antenna was pronounced "en-ten-ugh" after spending my formative years in the South.
Although this mystery isn't officially solved because there is apparently a variety of green bean called "french beans" and the "french style" or "french cut" refers to thinly cutting french beans and removing the string.  I found the frozen, french cut variety to be delicious and simple, so as far as I'm concerned, they are A-One.
Dad's French Style Green Beans
~makes about 5-6 servings~
I didn't actually ask my dad how he makes his French Style Green Beans before making them, but after eating them for so many years I felt like I could taste out the recipe especially because it is simple in its ingredients and methodology.  The fifth step of adding the besan (gram flour)/rice flour mixture is not part of my dad's method, but rather suggested by my mom.  It was a tasty addition that adds a rich and hearty texture to the green beans.  These beans though are simply delicious with or without the besan/rice flour.  
Grocery:
3 packages frozen french cut green beans, thawed
1 inch thick piece of frozen coconut or 1/4 cup of ground coconut
1/4 teaspoon of lemon juice
1-2 tablespoons gram flour (besan) (optional)
1/2 tablespoon rice flour (optional)
Masala Rack:
1 teaspoon mustard seeds
1 teaspoon lal mirch (red chili powder)
1 teaspoon salt or to taste
1. In a large, deep skillet or wok, heat about 1 teaspoon of oil on medium-high heat.  When the oil is hot, add the mustard seeds and cook unti they pop. Mustard seeds splatter when they pop so you may need to use a lid.  
2. Add the french style green beans to the skillet and mix in with the mustard seeds.  Cook for about 15 minutes uncovered until all of the water from ice on the beans evaporates.  Stir occasionally, especially as the water becomes less.  
3. Stir in the coconut, 1/2 teaspoon of the lal mirch and salt.  Continue cooking for another 5-10 minutes.  
4. Stir in the lemon juice.
5. Mix the gram flour, rice flour and lal mirch together in a small bowl.  Sprinkle 1/2 of the mixture over the green beans and fold in.  Sprinkle the other half over the beans and fold it in.  You can drizzle 1/2 teaspoon of oil over the green beans at this point if you want the flour mixture to get slightly crunchy.
6. Continue cooking for 3-4 more minutes and then serve hot. 
Serve these French Style Green Beans with a side of sambar or rasam and fresh basmati rice or upama.