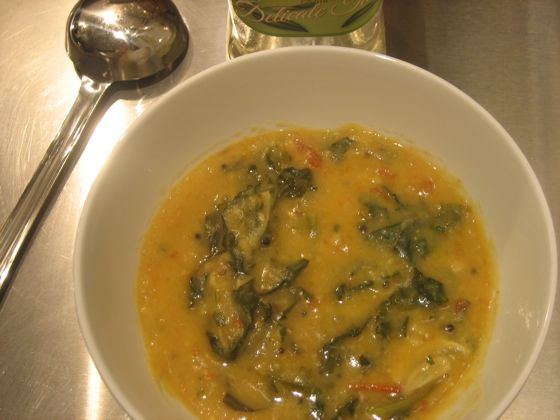 Do you have a grocery item that maintains a permanent on your weekly grocery list?  Something you know you can make use of no matter what your weekly menu?  Something that never dies a slow death in your crisper?  Greens.  They are always on my list, and they never go to waste.  Kale, collard greens, swiss chard, mustard greens, spinach.  I don't discriminate, but I do limit myself to just one bunch.
Ever since Rajat and I found out that we're having a baby (yes, a little hungry desi baby!), I've been a little more focused on making sure that I'm getting plenty of greens and protein. Being vegetarian, that first one is easy but the second can be a challenge.  My favorite way to "get rid of" my greens is to make a pot of lentils with onions and tomatoes with the garlicky greens tossed in.  I get to knock out a few birds with one stone.  The lentils reheat well during the week and make for a quick, protein packed lunch over rice or with a piece of naan or a buttered roll (if you can get one, a buttered brioche roll is perfect) or a side dish for dinner.
Market Green with Split Peas
~8 servings~
I like to rotate the type of lentil that I use – yellow split peas, channa daal, french lentils and pink masoor daal work well because they cook quickly and each offers its own nutty, hearty flavor which pairs well with earthy greens.  Any greens works but I prefer fresh over frozen and something with a crunchy stem.
2 cups lentils
1 tomato, diced
1 yellow onion, diced
1 teaspoon mustard seeds
3-4 cloves garlic, thinly sliced
2 green chilis, chopped
1 bunch greens, chopped
1 teaspoon lemon juice
Salt to taste
Add a tablespoon of cooking oil, lentils, tomato, onions and water to a pressure cooker.*  Pressure cooking times vary by cooker so check your cooker's instructions.  Heat a deep, wide skillet on medium heat then add about a tablespoon of oil.  Add the mustard seeds (cover with a lid, the seeds pop) and when they start to sputter add the garlic and green chilis.  Saute uncovered for 2-3 minutes until the garlic gets golden brown being careful not to burn.  This will give the garlic a sweet, nutty flavor that makes this daal so decadent and enjoyable.  Add the greens and cook until wilted, stirring occasionally and partially covered.  Stir the greens into the daal.  Add lemon juice then salt to taste and adjust with water depending on preferred thickness.
Heating up tip: The daal tends to become solidified when you store it.  Whisk a little bit of water into the leftovers if needed to get the original consistency.
*Pressure Cooker Phobia? Add the oil, lentils, tomato, onion and about 4 cups of water to a saucepan.  Bring to a boil then reduce heat to low and cook covered until the lentils are soft.  You may need to add more water as the lentils cook.  The cooking time varies by the type of lentil that you use and some may require overnight soaking.  Lentils that don't have an outer husk will cook more quickly.
Preserving Greens: When you bring greens home, wash them, air dry or pat dry until mostly dry, loosely wrap them in paper towels then place in the plastic grocery store bag and store in the crisper.  Also, if you buy your greens from a farmers market or CSA they'll last a lot longer than grocery store greens because there's less travel time from farm to your fridge.
Cleaning and Chopping Greens: I find the best way to clean greens is to first trim a bit of the stems off then put them in a large bowl with cold water and swish them around so the dirt settles to the bottom.  Repeat a few times with new water.  I like to use the green stems but some people prefer just the leafy parts.  The stems pack a nice crunch so I keep them around.  Stack a few similarly sized leaves on top of each other then fold over two times placed vertically and run a large knife down the length of the leaves cutting into strips.  Turn the strips horizontal and chop into small square-ish pieces.