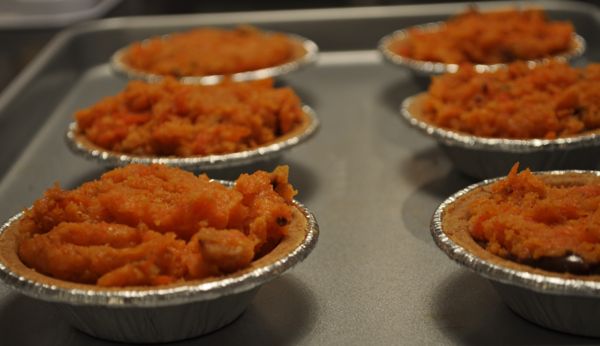 Most indian sweets are so so sweet that they make your teeth hurt.  Like immediate-cavity-formation-throb hurt.  And Indian aunties always seem to want to force feed you a huge piece of some sweet that's prasad, blessed by the temple, so of course you can't throw it away and have to eat it.  I try to swiftly pinch off a small bite, waggle my head back and forth to indicate I can't possibly eat more and move away quickly.  Or I pinch off a piece and drop the rest into Rajat's hand and then move away quickly.
There are few things in life that my husband wants.  His list is short.  I know that it includes a flat screen tv.  In fact, that may be THE list (having of course <of course> already crossed off beautiful wife and adorable child. teheehe.).*  Sure, it's nice to know he's not materialistic.  But it makes shopping for anniversaries and birthdays painful.  So I often end up giving him something I know he's guaranteed to appreciate – good food.  And, in keeping with the Indian tradition of marking special occasions with a sweet, for his birthday this year, I made one of the few sweets that appeals to his usually savoury tooth.  Carrot Halwa.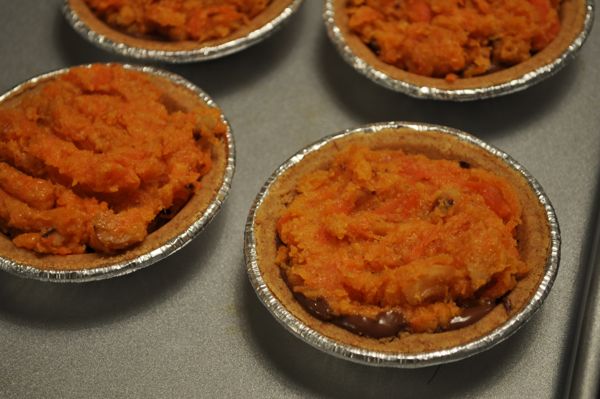 Carrot Halwa is shredded carrots cooked first in ghee then in a sugary syrup along with khoa, concentrated milk solid, studded with roasted cashews.  The carrot halwa recipe I used is based on a traditional recipe, but I served the halwa in individually sized store bought graham cracker crusts which I lined with melted milk chocolate.
The graham cracker crust provided an almost salty, savoury base for the sweet halwa (i.e. reduces the tooth-hurt factor), and the milk chocolate mellowed out the sweetness as well with – well – a chocolate-y mouthfeel.  A combination of bittersweet chocolate and milk chocolate would make for a nice balance as well.
Graham Cracker Crusted Carrot Halwa with Milk Chocolate
~About 8 servings~
Khoa, concentrated milk solid, is used in many Indian sweets for a creamy taste and texture.  You can find khoa in the refrigerator section in most Indian grocery stores.  Alternatively, you can use milk powder
or unsalted ricotta cheese.  You can also add plump raisins to the halwa as well.  I'm not a huge raisin fan, so I left them out.
1 tablespoon ghee or butter (see below)
Approximately 3-4 cups shredded carrots
1 cup sugar
1 12 ounce package khoya
2-3 strands saffron
3 cardamom pods
1/2 cup roasted cashews
1/2 cup milk chocolate chips
1 package store bought graham cracker crusts
1. Peel and shred the carrots.  You can do this by hand or in a food processor with the shredder blade (which is what I did).  Don't shred the carrots too finely or the halwa will become too mushy.
2. Remove the shell from the cardamom pods and smash the seeds inside with the back of a spoon.
3. Heat the ghee in a wide, deep skillet on medium.  Add the carrots and cook for 1-2 minutes until the carrots are soft.
4. Mix in roasted cashews and cardamom.
5. Stir in the sugar and 1 cup of water.  Mix thoroughly to incorporate the sugar water into the carrots.
6. On a cutting board, use your hands to break up the block of khoa into teeny crumbles.  Add to the carrot mixture and stir well to break up any lumps.
7. Bring to a gentle boil and reduce heat to a simmer.  Continue cooking on low heat, stirring frequently, until all of the water evaporates.
8. Melt the milk chocolate in the microwave according to the instructions on the package.  Spoon about a tablespoon into each crust.
9. Fill the rest of the crust with the halwa and smooth the top over with a spoon.  Serve warm with a glass of milk.  I heated the crusts in the toaster oven on the "bake" setting.  It crisped up the tops nicely.
I hadn't had ghee in years. As a kid, one of my favorite foods was basmati rice mixed well with ghee and a pinch of salt. I was pretty excited to make it (especially since we rarely even use butter). You can follow these instructions for making ghee. There are nit-pickers who will argue that ghee is essential for Indian sweets. I personally think you can get away with using regular butter. Maybe I've gotten too used to cooking with olive oil but the smell of the ghee almost made me ill.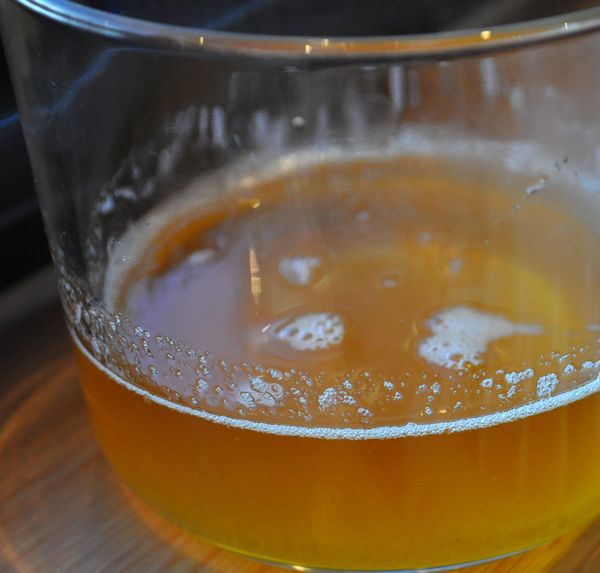 *Rajat thinks this makes him sound deprived.  He asked me to clarify that he could get  a flat screen tv.  But he just hasn't.  Because we already have an enormous tv with apparently good picture quality.  He tells me it's rear projection.  So when we move and have space for a second tv, he'll get his flat screen.  I bet no one even paid attention to this part of the post.  But now Rajat will feel better about my mention of his tv desire.  I noticed that he didn't ask me to correct the part about a beautiful wife and adorable child.  So I can only assume that part was correct.