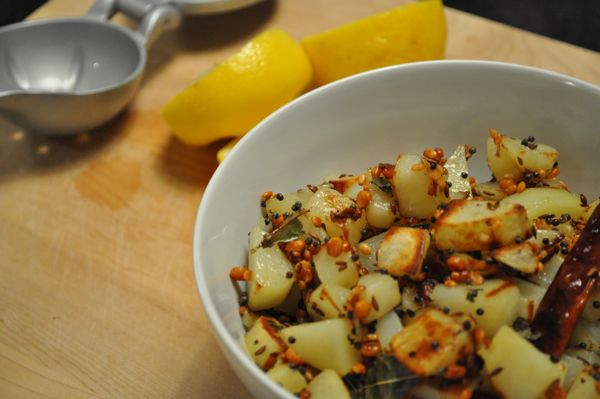 Never say never, but I could never cut rice out of my diet.  When I say rice, I'm referring to white Basmati rice.  Not the brown stuff, but that's okay sometimes too.  Of course, I know that a diet high in refined carbs like white rice can lead to an unhealthy heart.  But rice is so good.  And we barely eat real butter at is.  And I was raised in a South Indian family.  So it's not really a meal unless you have rice.  Pizza for dinner followed by a little bowl of rice and yogurt just to make it a proper meal.  Doesn't everyone do that?
South Indian lemon rice is one of my favorite rice dishes.  It's tangy and tart more so than spicy and has little crunchy bits of nuts, roasted moong urad daal, cumin seeds and channa daal.  Mostly it's the tanginess of freshly squeezed lemon juice that does it for me. If you're looking to cut down on rice – and even if you aren't – cous cous can make for a good substitute.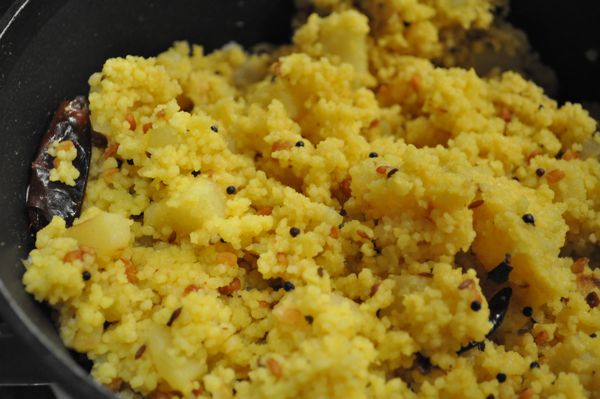 Lemon Spiced Cous Cous
~About 4-5 servings~
~Adapted from my parent's recipe as told to me~
I added tiny chopped potatoes to this Lemon Spiced Cous Cous to make it more filling for dinner.  You could try peas or carrots as well.  Also, you'll notice from the pictures that I forgot the nuts but they are a great addition.
2 teaspoons urad daal, washed
3 teaspoons channa daal, washed
Handful of curry leaves, washed
3-4 dried red chili peppers or 2 green chilies diced
1 teaspoon cumin seeds
1 teaspoon mustard seeds
Handful of cashews or peanuts, roasted
3 small/medium sized potatoes, peeled and cubed into small pieces*
1 teaspoon turmeric
1 teaspoon salt or to taste
Juice of 2 lemons
2 cups cous cous
1. In a large saucepan, heat about 1 tablespoon oil.  Add the first 6 ingredients and cook on medium low until the urad daal and channa daal are golden.  Be careful not to let them burn.
2. Add the potatoes and the nuts.  Cook covered until the potatoes are golden and soft, about 10 minutes.  Sprinkle with turmeric and mix well.
3. Add 4 cups of water to the sauce pan and bring to a boil.  Add salt.
4. Stir in the cous cous.  Turn off heat and cover for about 3-4 minutes.
5. Shower with the lemon juice and mix well. Fluff with a fork and serve immediately with a side of raita.
To heat up the leftovers in the microwave, sprinkle a little water over the cous cous then microwave.
*The potatoes should be should be cut into small pieces, about half an inch, so that they cook quickly.