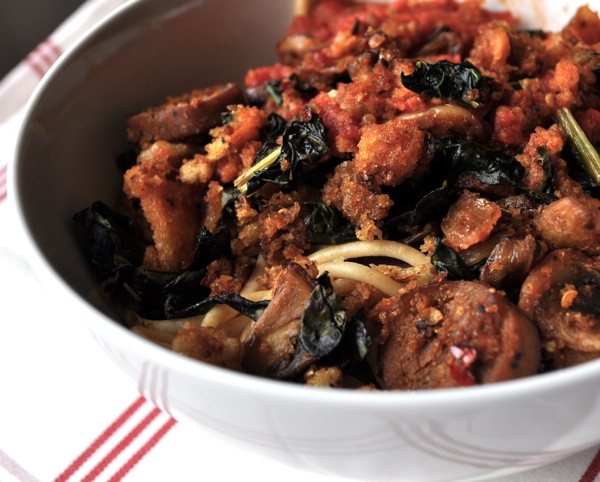 For a long time, I was convinced there was a way to make a Tofurkey that tasted good.  I just had yet to discover the right method.  Maybe deep frying the whole thing or basting it in beer batter.  God love the optimist in me.
After multiple failed Tofurkey attempts, I was skeptical when my brother told me about Tofurkey Sausages.  We've Rajat has been dicing them up and putting them in scrambled eggs for ages.  But never used them in a real main dish for dinner.  I found some beautiful, delicate tuscan kale (tuscan kale is as to regular kale as waifs are to cavemen) at the market, so when I saw this recipe from TheKitchn for Orecchiette with Sausage and Kale, I decided to take Tofurkey Sausages to the next level.
Vegetarian sausages are not pretty.  They do look like meat. I have no idea whether they taste like real sausage.  BUT they are full of protein and spiced nicely.  They make a hearty, chewy addition to regular old bowl of pasta.
Also, don't skip out on the toasted garlic breadcrumbs.  They do a really good thing for an otherwise routine weeknight bowl of pasta.  They are chunky and crunchy and garlicky.  I made my own using stale bread in a mini food processor (see here for instructions on DIY).  My processor didn't grind them to smooth, uniform crumbs like store bought crumbs but we loved the combination of big and small pieces (which you can see in the picture).
Pasta with Veggie Sausage, Kale and Garlicky Breadcrumbs
~About 4 servings~
You can use any type of pasta, but I love the chewy texture of whole wheat spaghetti and the feeling that I'm eating something that's good for me.  I stirred in three-fourths of the breadcrumbs to the sausage-kale mixture and reserved the rest for topping the pasta after plating.  The breadcrumbs in the sauce give the pasta a chunky texture while the ones on top retain a nice crunch, each full of garlic.
Olive oil
1/2 yellow onion, roughly diced
1/2 cup button mushrooms, chopped
2 vegetarian sausage links, cut on a diagonal into 1/2 inch thick rounds
1 bunch of kale, chopped into bite sized pieces
Italian seasoning
Crushed red pepper
1 28 oz. can of crushed tomatoes
2 fistfuls of spaghetti
Garlicky Breadcrumbs:
Olive oil
About 1/2 cup breadcrumbs
Garlic powder
1. Make the pasta according to the instructions on the package.
2. Heat a splash of olive oil in a large skillet on medium heat.  Add the breadcrumbs and sprinkle with a generous shower of garlic powder.  Toast for about 3-4 minutes until the breadcrumbs are golden.  Remove from skillet to a plate.
3. In the same skillet, add another splash of olive oil and the onions.  Cook for about 5-8 minutes until the onions are translucent.
4. Add the mushrooms and cook for another 5-10 minutes until the mushrooms are soft.  Push the onions and mushrooms to the side.  Add the the sausages cook until browned, turning so both sides brown.
5. Stir in the kale and cook until wilted.
6. Lower the heat and stir in a can of crushed tomatoes.  Sprinkle with Italian seasoning and crushed red pepper to taste.  Cook for about 8-10 minutes so the flavors mix with the tomatoes.  Add salt to taste.
7. Immediately before serving, stir in 3/4 of the breadcrumbs.  Reserve the rest for topping the pasta.
Serve hot over pasta and top with remaining breadcrumbs.