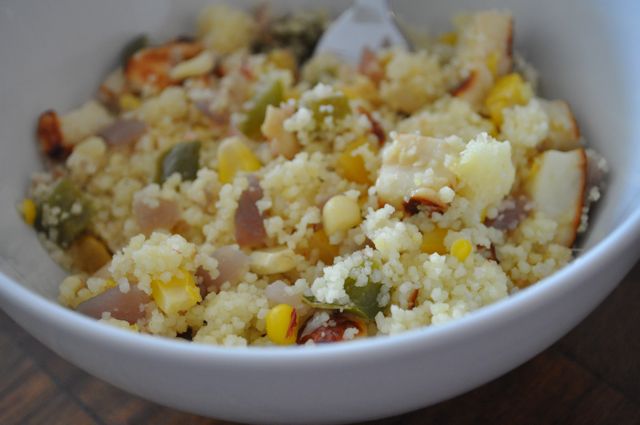 When life gives you lemons…make preserved lemons.  I actually bought mine at the store – the stunning jar of yellow lemons with red strands of saffran dotted with black sesame seeds caught my eye.  Preserved lemons, diced up and tossed into an otherwise simple bowl of couscous or noodles, provides bite-size smidgeons of tongue puckering tartness. So teeny though that you're left wondering what just flooded a corner of your mouth with such a bright burst.  Which demands that you immediately plunge your fork back into the bowl and stuff your mouth with whatever was just in there.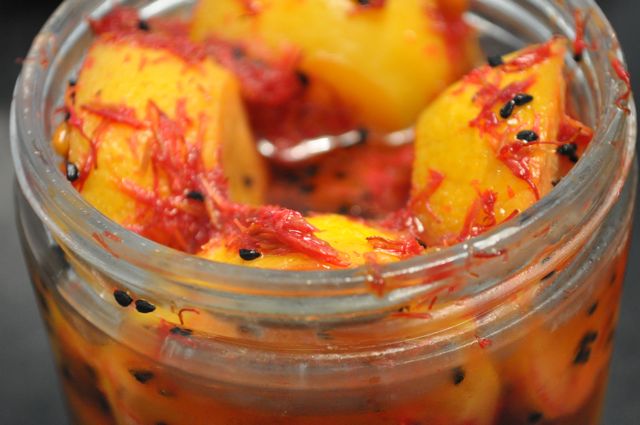 Couscous with Preserved Lemons and Haloumi Cheese
I like to use green bell peppers, yellow corn and red onions for a good crunch-color-bitter versus sweet mix, but you can easily adapt this recipe to include different vegetables.  Haloumi cheese and preserved lemons are both salty ingredients so add any additional salt sparingly.  Also, one word on the preserved lemons – many recipes call for discarding the pulp or straining the juice out then discarding.  I add both pulp and skin (with seeds picked out) and prefer not to waste one bit of preserved lemon.
2 cups couscous
1 package haloumi cheese, diced into 1/2 inch bites
1 small red onion, diced (about 1/2 cup)
1 small green bell pepper, diced (about 1/2 cup)
2 ears boiled corn (about 1/2 to 1 cup)
2 preserved lemons
If using fresh corn, boil the earns of corn then allow them to cool and cut the kernels off of the ear.  You can also use frozen corn.
Next, heat a wide skillet on medium/medium high heat with about a tablespoon of cooking oil and add the diced haloumi cheese.  The cheese will initially give off a lot of water.  Be patient, don't freak out that something is going wrong, let the water evaporate and then the cheese will start to brown up and sizzle. Once golden brown on two sides, remove from the pan and set aside.
In the same skillet, add the red onions (re-oil only if needed) and cook for about 5-8 minutes until the onions are a slightly translucent pink.  Add the bell peppers and cook for another 3-4 minutes.  Add the corn and haloumi cheese and mix well (if using frozen corn, cook for another 5 minutes or so before adding the haloumi cheese).  Rough dice the preserved lemons – skin and pulp – into about 1/4 inch pieces (try to remove seeds with your knife) and toss in.
In a small saucepan, cook the coucous according to the directions on the box (although I omit the butter because the fat from the cheese and oil in the vegetables are enough to make it unnecessary).   Fluff the cooked couscous with a fork and added to the skillets with the vegetables and haloumi cheese.  Fluff and gently stir everything together.
Serve with a little runny yogurt drizzled over the top or plain.
Other couscous and haloumi recipes you may enjoy: