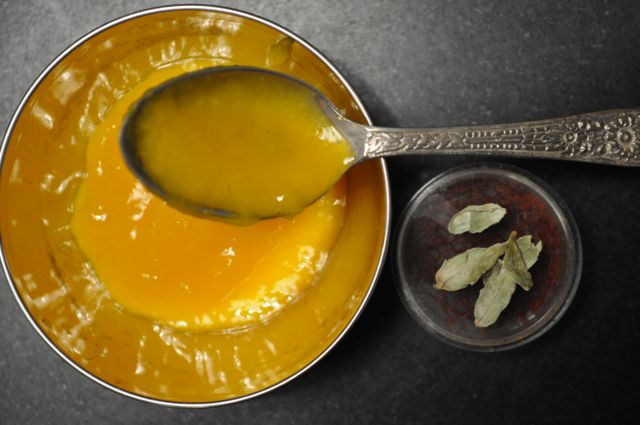 One of the baby food books I read suggested that "mangos and other exotic fruits" should be saved until your baby is a little older.  That made me giggle a little and wonder "exotic to whom, exactly?"  Have you ever read those little stickers on pears that you buy in the grocery store?  They are actually pretty exotic.  Pears come from all around the world (unless you shop at the local farmers market in which case you don't have to deal with those pesky country of origin stickers). And yet pears are a common first fruit!
After weeks of Surya devouring plain, pureed mango, I wanted to change it up.  Her savory food has been fun food experiments (for me) but fruit hasn't gotten more exciting than just boiled, pureed fruits.  Though, I tasted her peaches puree and plain fruit puree isn't such a bad thing.
And so last Friday, I ended up cooking cubes of peeled mango with crushed cardomom seeds and strands of saffron.  Cooked mango has a heavenly scent.  As in, should be bottled and sold heavenly scent.  Even with nothing else added, it smells creamy and sweet and rich.  So rich.  And creamy.  And sweet.  And that's how it tastes too.  The cardamom and saffron are icing on the cake that will make you want to throw any women and children first chivalry overboard and lap this up for yourself.
And you can.  Mix some of this puree into a glass of whipped heavy yogurt (like Greek yogurt) diluted with enough water to make it a drinkable consistency for a Mango Lassi for you.  And serve to baby as is or mixed with a little yogurt or oatmeal.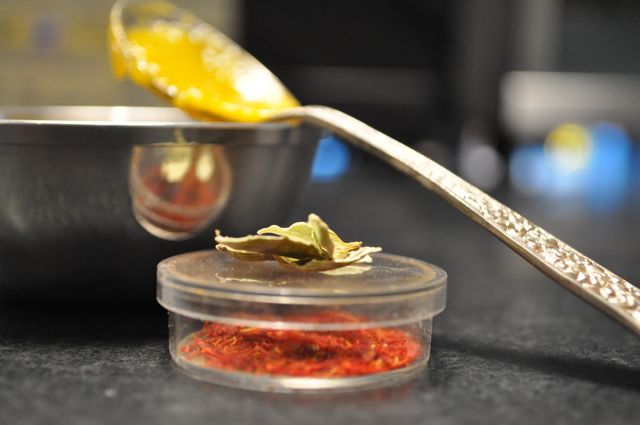 Mango Sauce with Cardamom and Saffron
Inspired by Closet Cooking: Mango Shrikhand
Makes about 2 1/2 trays of cubes

3 mangos
3 green cardamom pods
Pinch of saffron
Peel the mangos and chop into large chunks.  Put in a saucepan with about 1/4 cup of water and cook on medium heat until the mangoes becomes soft and glassy looking (like canned peaches).  Pop the seeds out of the cardamom pod and discard the pods.  Using a mortar and pestle, crush the cardamom and saffron then add to the mangoes.  If you don't have a mortar and pestle, just put the cardamom and saffron in a sandwich bag and crush with the back of a spoon.  Cook for another 5 minutes or so.  Allow to cool then puree with the water to a smooth consistency using your device of choice.
If mangoes are indeed exotic to you, here are a few links you might find useful: