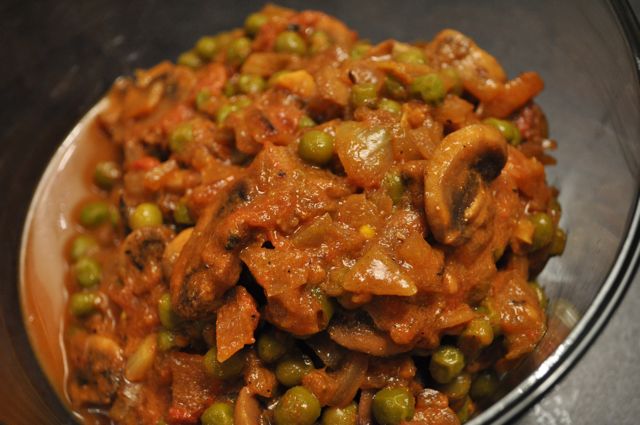 Late one Sunday after a weekend away, we came home to an empty fridge with a strong craving for Indian food.  I was wishing for an Indian version of Ina Garten who would load up my fridge with a proper Indian meal before my return.  If there's anyone out there interested in filling that role, I live in a lovely building in Dumbo and can tell you more about it.
I dove into the freezer and resurfaced with a box of peas. I scrounged up some mushrooms, a tomato and an onion.  Within 15 or 20 minutes, I cobbled together a simple dish of curried mushrooms and peas with frozen naan.  It reminded me that fresh, healthy and Indian doesn't mean hours spent slaving over the stove.  It also doesn't require a spice cabinet stacked three rows deep (all of the spices used here are on my top ten list of Indian spices).
Curried Mushrooms and Peas
I sometimes make a "wet" version of this curry which is more time consuming.  This version is more like the weeknight version.  It's tasty without all of the fuss of slow cooking the masala.
1-2 cups button mushrooms, sliced
1 yellow onion, diced
1 beefsteak tomato, diced
1 1/2 teaspoons cumin powder
1 1/2 teaspoons coriander powder
1/2 teaspoon red chili powder
1/2 teaspoon garam masala
1 cup yogurt, whisked
Heat about a tablespoon of oil in a saucepan.  Add the mushrooms and cook on medium heat for about 10 minutes, stirring frequently, until the mushrooms are soft and glossy looking.  In a wide skillet, cook the onions for about 10 minutes until see through then add the tomatoes and spices.  Cook for about another 5 minutes until the tomatoes have wilted.  Add the peas and mushrooms.  Cover and cook for another 5 to 10 minutes.  Turn off the heat and stir in the yogurt.  Serve warm with roti or naan and rice.