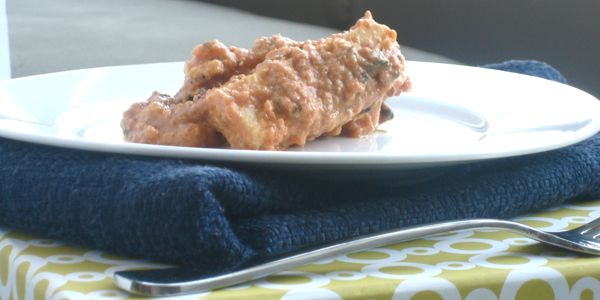 As promised, here's the paneer makhani recipe that I shared at yesterday's New York Times Cafeteria.  Their team did a great job of recreating the recipe. It was a lot of fun to step into their kitchen to be greeted with the smells of an Indian home kitchen with packages of authentic Indian spices littering the counter.

Prep time:
Cook time:
Total time:
We've been wrapping the paneer makhani with fresh basmati rice, yogurt and – if you want—a salsa of diced onions, cucumbers, tomatoes and green chiles—in a large burrito wrap. Spice things up with a dollop of coriander chutney. I like to omit all of the extras and just enjoy the spicy-sweet, creamy makhani sauce wrapped with rice and yogurt or simply over a bowl of rice.
Ingredients
1 block paneer cheese, cut into 16 matchsticks
4 juicy, ripe tomatoes, skinned
2 green chiles
1 tablespoon ginger-garlic paste
2-inch stick cinnamon
½ teaspoon coriander powder
¼ teaspoon cayenne pepper
¼ teaspoon garam masala
1 tablespoon dried fenugreek leaves
1 teaspoon black poppy seeds
1-2 tablespoons almond butter
2 tablespoons yogurt, whisked until smooth
2 teaspoons salt (to taste)
1 –2 teaspoons sugar
Instructions
Quarter tomatoes and puree in a food processor with the green chilis.
Add cooking oil to a deep skillet on medium heat. Add g-g paste and cinnamon stick and cook for about 30 seconds.
Add the tomato-chili puree and cook for about 10 minutes until some liquid has evaporated and oil separates.
Stir in all of the spices and the almond butter. Cook for another 8-10 minutes.
Fold in the yogurt. Add salt and sugar.
Gently add the paneer and stir until well coated.