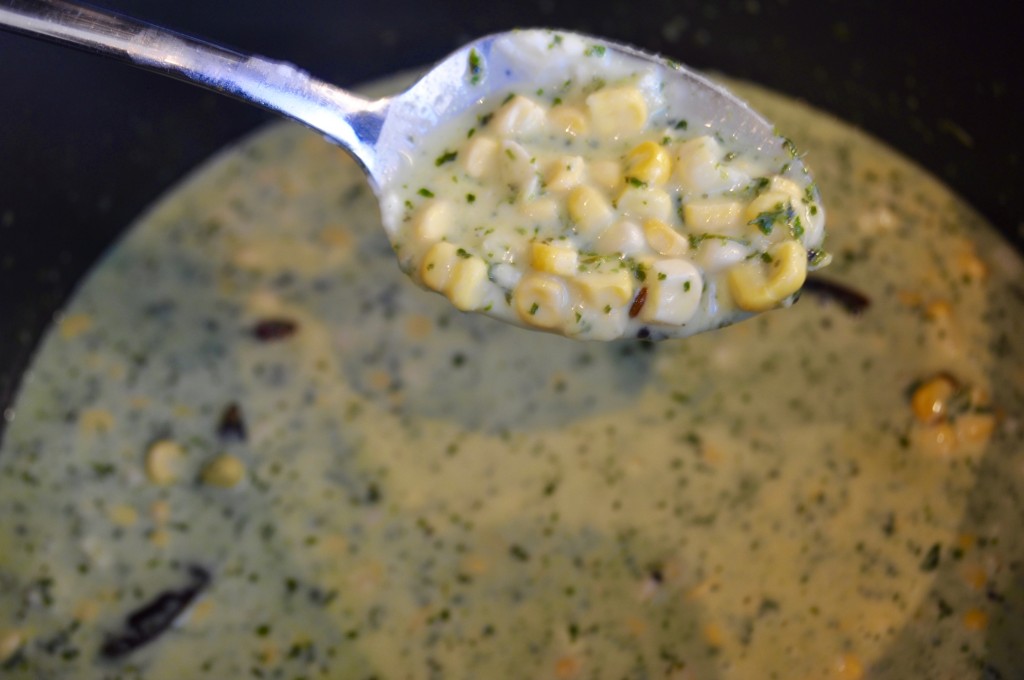 This dish is so easy to make, so delicious to eat, so fragrant to smell and so pretty to look at that you have to make it. Trust me.
Mouthfuls of sweet crunchy corn in a creamy mildly spiced coconut broth. It's equal parts curl up on your sofa in sweatpants and lay in a field of soft green grass stretching your toes.
Sweet Corn Curry
Sweet corn in a creamy spiced coconut curry
Ingredients
2 green chilies, stemmed
1 cup fresh cilantro leaves
½ cup fresh mint leaves
2 inch piece of ginger, peeled and cut into chunks
2 cans coconut milk
2 teaspoons cumin seeds
1 teaspoon mustard seeds
3-4 dried red chilies
¼ teaspoon turmeric
4 cups frozen corn
Salt to taste
Instructions
Grind green chilies, mint, cilantro, ½ teaspoon cumin seed and ginger in a food processor into a paste, adding up to 2 teaspoons of water as needed.
Combine mustard seeds and 1½ teaspoons cumin seed in a deep pot with oil over medium heat for 1 to 2 minutes until mustard seeds pop.
Add chilies and turmeric.
Add the green paste and reduce heat to low. Cook for 1 minute.
Add 2 cans of coconut milk and whisk into the green paste.
Stir in the corn and salt. Simmer uncovered for 5-8 minutes until corn is cooked.
I adapted this recipe from Suvir Saran's 
Shrimp and Sweet Corn Curry
 making it into a simpler, vegan and gluten free version. I've made the original recipe without shrimp before and it's also delicious. My version just requires a few less steps and hard to find ingredients (curry leaves) and relies on coconut milk for another flavor.