My Dad passed away. It's been just a little over 100 days.
Food is an interesting thing when you lose a loved one. Eating it, thinking about it, writing about it – it all seems trivial compared to the loss. On the other hand, my connection to food is so deeply grounded in my relationship with and memories of my Dad.
Food was my Dad's language of love.
My Dad learned to cook out of necessity. He spent much of his adolescence as an orphan – my Dad's mother died when he was a toddler and his dad died when my Dad was in his 20s. He learned over that time to become proficient at South Indian cooking.
My Dad made me after school snacks of buttered lima beans, cheesy broccoli spears and peppery green peas while he and my mom made South Indian meals that we ate each night. As a mom, I see the value in the healthy eating habits he set for me. And I have to hold back when my daughter complains that we're eating Indian food "again" (my response: WE'RE INDIAN. We eat INDIAN FOOD.).
Family weekend outings were to the international farmers market and Indian grocery store. A farmers market, Asian grocery store or even the international vegetable section of the FreshDirect app still gets me excited in a kid in a candy shop kind of way.
As a college student, my trips home were met with all of my favorite foods. My bags always contained goodies to take back. When Rajat met my Dad, they bonded over Rajat's love of South Indian food – dosas, idlis, gun powder, rasam (even if he did drink it from a bowl!) and dahi vada. It was the foundation of not only my Dad's love for Rajat but my mom's too.
The language of love through food spread to my daughter, Surya. Dad would send me recipes for making kohlrabi, noting that it helped breastfeeding moms produce more milk. He also sent that recipe to my sister and brother who pointed out that while they were thankful for the information, they were not breastfeeding mothers!
Surya quickly learned that visits from her ThaTha (my Dad) and Avva (my Mom) also meant ThaTha okra was on its way and that he would ensure Avva made her crispy potatoes, dosas, lemon rice and magimum (curd rice) with homemade lemon pickles.
My Dad has stopped cooking as much in the last few years. Our pestering about reducing sodium and fried foods took some of the fun out of it for him. But my Mom stepped right in and picked up where he left off making his and our favorites. 

Food is powerful. It not only nourishes our body, but it brings families together, kindles memories of loved ones and allows us to carry on traditions and cultures. It showers love upon family and friends.
Earlier this week, I was missing my Dad. I made a simple tomato garlic rasam, a daily staple that that my Dad would make in a minute. He relished it for the rich tangy, spicy garlicky taste. He would prescribe a peppery version for a cold, a lemony version to soothe a sour tummy and a soar throat and so on.
Later that night, over a bowl of garlic rasam and crispy potatoes, Surya, Rajat and I remembered my Dad fondly and laughed together over my his love of those foods and the times we shared them together. Funny enough but we have done that a lot since my Dad passed away.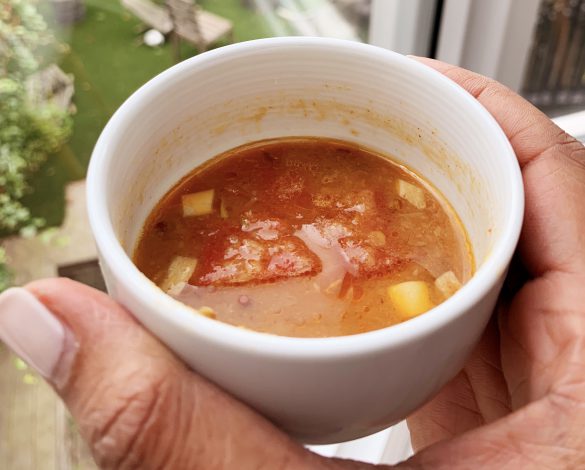 #FoodstoRemember
[amd-zlrecipe-recipe:23]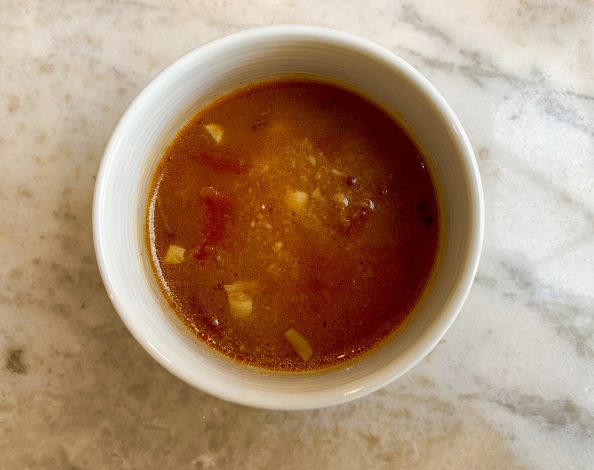 In loving memory of my Dad, Gopalakrishnan Balasubramanian (September 11, 1940 – July 21, 2018).