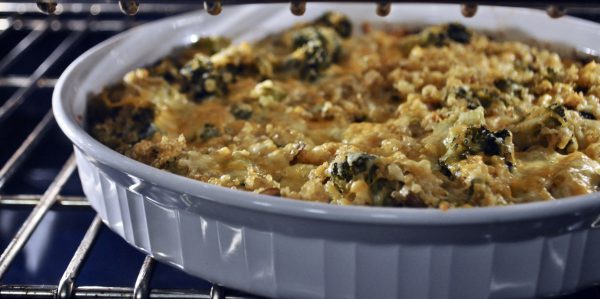 Discovering that your child loves quinoa is like coming home to find the dishes done and laundry folded (side note: thank you progressive education school with a cafeteria that provides healthy, nutritious meals).
This combined with discovering the texture of roasted, cooked quinoa (spoiler alert: crunchy bits, soft fluffy bits, same nutty flavor) borders parent cooking nirvana.
One reason I love folding quinoa into foods is that quinoa is a high source of protein, fiber and vitamins. Is it just me or does everyone find rice to be completely satisfying while it's being shoveled it into your mouth but then afterwards you are left feeling bloat-y and slightly ashamed at having eaten too much rice? Well, quinoa leaves you feeling fuller than rice but in a good, not bloated kind of way. Not feeling bloated is an awesome way to feel. And no food shame either.
Surya's response when she saw this coming out of the oven was "Wow. So cheesy and yummy looking." She loves broccoli but if your little eaters don't love it, this is a great way to make it more attractive. And if they do love broccoli, even better because this also gives them a serving of a superfood.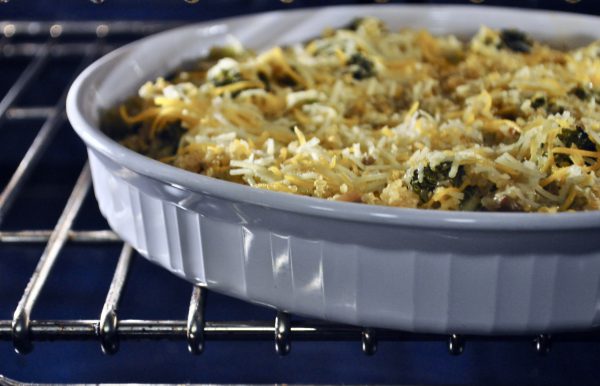 This recipe makes for great leftovers. I enjoyed it the next day topped with a fried egg over medium and of course a little dollop of harissa (aka chili paste for putting on everything).
I loosely modified this recipe from Cooking Classy's One Pan Cheesy Chicken and Broccoli Quinoa and Mark Bittman's Roasted Quinoa with Potatoes and Cheese which is where I first learned about roasting quinoa.
Cheesy Crispy Quinoa Broccoli with Mushrooms
Ingredients
1 small yellow onion, chopped
2 cloves garlic, chopped finely
1 3/4 cup vegetable broth
Salt
Black Pepper
1 cup dry quinoa
1/4 teaspoon thyme
2 1/2 cups chopped fresh broccoli florets
1 1/2 cups sliced button mushrooms
Approx 1 cup shredded cheddar cheese (I used a finely shredded cheese blend in the photo but recommend coarsely grated cheddar)
Instructions
Preheat oven to 400 degrees. Oil a wide baking dish (about 9-10 inches size) and sprinkle salt and pepper on bottom.
Heat olive oil in a deep wide skillet. Saute onions for 3-4 minutes.
Add garlic and mushrooms and cook another 3-4 minutes. Mushrooms should be softened but do not need to be fully cooked.
Add in broth, salt, pepper, thyme and quinoa. Mix well. Bring to a boil then reduce heat to a simmer, cover and cook for 12 minutes.
Quickly drop broccoli florets on top and cook another 8-10 minutes (until the quinoa and broccoli are cooked through and almost all of the liquid has been absorbed.
Spread quinoa broccoli mixture into the prepared baking dish. Bake for 15 minutes then mix up the dish, scraping the bottom for any browned bits. Bake for another 8 minutes.
Sprinkle cheese evenly on top. Broil for 8-10 minutes watching closely until the cheese is bubbly and quinoa starting to brown on top.
Hungry Desi Copyright 2018
If you're in need of a vegetarian Thanksgiving side, this is quick to make and can be made ahead and reheated in the oven. Quinoa is gluten-free so to make this fully gluten-free, substitute the cheese for nutritional yeast or vegan cheese. I've made a few different types of casseroles with vegan cheese before with really tasty results.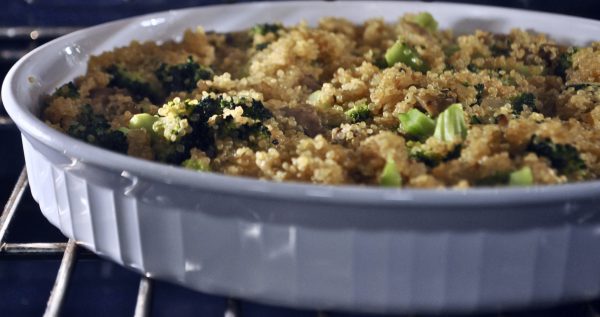 And of course, if you want to go in the other direction and make this even cheesier (no judgment), try a coarser shredded cheddar or full fat cheddar cheese.