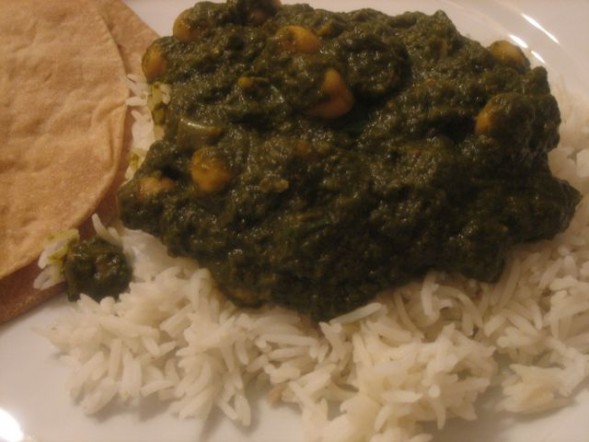 I've been craving the smooth taste of hearty chickpeas ever since reading about Mike's channa masala. So, not surprisingly, Sunday's lineup included chickpeas. As a healthier alternative to palak paneer, we decided to make palak channa. Soft, buttery chickpeas swimming in pureed fresh spinach made for a fulfilling end to a lazy weekend. You can also substitute paneer or aloo (potatoes) for the chickpeas.
Palak Channa
You can substitute pan fried paneer, tofu or potatoes for the chickpeas in this dish for easy variations.  Just pan fry the paneer, tofu or potatoes separately until golden and add in place of the chickpeas in step 8 below.
Ingredients:
4 bunches fresh spinach*
One 28 oz. can chickpeas, drained and rinsed
2 beefsteak tomatoes (or 4 plum tomatoes), quartered
1 medium/large yellow onion, quartered
3 cloves garlic, peeled and chopped
1 1-inch piece of ginger, peeled and chopped
2-3 fresh green chilis, chopped
1 cup yogurt, whisked smooth
1/2 tsp. garam masala
1/2-1 tsp. lal mirch (red chili powder)
1 1/2 tsp. coriander powder
1 1/2 tsp. cumin powder
1 tsp. turmeric
2 tsp. paprika
Salt (I used 4 1/2 – 5 tsp. salt)
1. Before removing the twist tie or rubberband holding the spinach bunches together, trim the stems off. Then wash well in a colander and use your hands to squeeze out the water.
2. Heat about 1 tbsp. oil in a deep skillet. Add the green chilis and spinach. Cook for about 10 minutes or until the spinach is wilted. As a time saver, I add each bunch to the skillet as it's cleaned and squeezed – it's okay to not add it all at the same time. Set aside to cool.
3. Add the garlic and ginger to a food processor bowl and process until minced. Add the onions and process until finely diced. Add to a hot skillet and cook on medium-high until the onions are translucent.
4. While the onion mixture cooks, add tomatoes to the food processor bowl (no need to clean between this and the above step) and puree. Add to the onion mixture.
5. Add all of the masalas. Mix well and cook on medium heat, halfway covering the skillet with a lid. Cook for about 30 minutes until the liquid dissolves.
6. Mix in the whisked yogurt.
7. Puree the spinach and then add it to the skillet and fold in with the masala.
8. Add the chickpeas and continue cooking for about 15-20 minutes on medium-low heat until you have the desired thickness. Serve hot with basmati rice and roti.
*The first time I made palak, I used frozen, chopped spinach. The result was a bitter, cardboard-ish tasting sabzi. This could be attributed either to first time, beginner bad fortune (aka user error). I decided it was due to using frozen rather than fresh spinach and only use fresh now! You can also use 2 bunches of spinach and 1 bunch mustard greens and make this dish into palak saag.