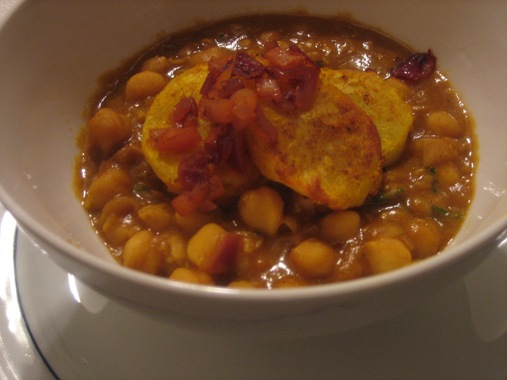 Punjabi Chole with Amchur Crusted Aloo is possibly the easiest curry I've made in a long time.  The chickpeas are packed with protein and high in fiber, and their buttery, nutty taste mixes well with this heavy on masala curry sauce topped with tangy, roasted potatoes.  In a nutshell, you boil everything in a big stockpot, broil some potatoes and top it all off with onions.  Easy.  Tasty.  Healthy.  I can't ask for more.
Rajat's mom gave me this recipe and while she gave me instructions and ingredients, as with most recipes handed down from Indian parents, there were no measurements or cooking times.  I was a little skeptical as to how mine would turn out.  I tweaked the recipe to make it little simpler, and my measurements below are for medium-spicy chole.
Punjabi Chole with Amchur Crusted Aloo
~makes about 6-8 servings~
Grocery:
3-4 cups chickpeas*
Small piece ginger, cut into long, thin slivers
1 tea bag (regular Lipton tea)**
1 red onion, diced
4 Idaho potatoes
Masala Rack:
1 1/2 tspn. cumin powder
1 1/2 tspn. coriander powder
2 tspn. amchur powder (mango powder)
1 tspn. garam masala
2 tspn. turmeric
1 1/2 tspn. lal mirch (red chili powder)
3 tspn. salt or to taste
1 1/2 tspn. paprika (optional for coloring)
*I used dried chickpeas, but you can substitute canned chickpeas.  If using dried, soak the chickpeas overnight and then pressure cook.  Reserve the water from the pressure cooker.  When using canned chickpeas, rinse and drain the liquid in the can.
**The tea bag helps to give the chole a dark brown/black color.  It's not used for flavoring.  Amchur and the masalas will also help give it the black color.
Making the Punjabi Chole:
1. Heat ~ 1 1/2 tspn. oil on medium heat in a tall stockpot.  Add the ginger slivers and cook for about 1 minute.
2. Add the chickpeas and, if you pressure cooked the chickpeas, the water from pressure cooking.  If you are using canned chickpeas, add about 3 cups of water.  If you add too much water, you can let it boil off later.
3. Stir in 1 tspn. of the amchur powder and 1 tspn. of the turmeric (the remaining amchur and turmer are for the aloo).  Stir in the other masalas.
4. Put the tea bag into the pot on one side letting the bag's label dangle off of the side.
5. Cook on medium heat uncovered and let the chole come to a gentle boil.
6. In a small skillet, heat about 1/2 tspn. of oil and the paprika.  Add the onions and cook until translucent.  Mix half of the onions into the chole and keep half for garnish.
7. Let the chole boil until it reaches the desired consistency.  It shouldn't be dry but also not so liquidy that it's soup like.
Making the Amchur Crusted Aloo:
1. Parboil the potatoes (takes about 30 minutes).  After they cool, peel the skin and cut into 1/2 inch thick slices.
2. Put the aloo slices into a large mixing bowl and drizzle with about 1 tbsp. olive oil.
3. Shower with 1 tspn. amchur powder, 1 tspn. turmeric and about 1/2 tspn. salt.  Mix well so all of the aloo slices are well coated.
4. Spread evenly on a foil lined cookie tray. Brush the slices with a little olive oil and broil on high until the slices are golden.  Flip and repeat.
Serving:
Top the Punjabi Chole with aloo slices and garnish with red onions.  Diced fresh tomatoes are also a good topping.
Tip for leftovers: If you have leftovers, store the Aloo and the Chole separately and then reheat separately otherwise your Aloo will get soggy.
Recipes from Indian parents are often seemingly incomplete and confusing.  How many of you have had this happen to you: there's a flurry of instructions where various spices and ingredients are quickly mentioned and passed over and mentioned again, then invariably in the middle of relaying step eight a memory jog causes step three to suddenly change and interjected questions about "how much" and "how long" either go unanswered or are met with some vague quasi-measurement that only confuses further.  Or my favorite is when thirty minutes after relaying the recipe, my  mom calls to say an ingredient was accidentally omitted.  By this point, of course, it's too late.
Don't despair.  I just taste whatever it is I've just made towards the end of the cooking process and then adjust spices and salt accordingly.  Even the most accurate of measurements, cooking times and instructions aren't a substitute for the good old fashioned taste test.  Because if it tastes good to you, then no matter what's the "right" way or the "wrong" way, it's perfect.