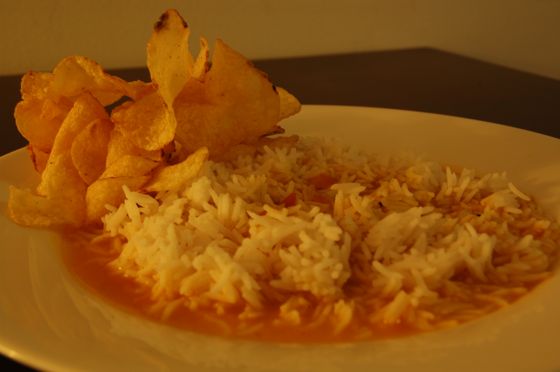 This is a guest post written by Raj Bala, Nithya's brother, who is incidentally also a hungry desi.
The French settled a colony in India called Pondicherry in 1673 on the Southeast coast of India. Their influence on the city is still evident today even though they didn't necessarily fare as well in terms of colonization as the Portuguese and the British.  French is even still spoken as one of a handful of official languages in Pondicherry and their architecture is still very visible in the city.
I often wonder how classical methods of French cooking would have influenced classical South Indian cooking had French colonization been more widespread.
A classical way of making soup in the French culinary tradition is to start by making a mirepoix (meer-ah-pwah).  I never make a soup without starting with a mirepoix base.  It consists of sweating celery, carrots, and onions in butter or olive oil and then adding other stocks and ingredients to complete the soup.  It adds a level of complex taste to soups that you'll miss without it.  Some even refer to the mirepoix as the holy trinity of French soups.  You'll understand why if you choose to use it in your soups or in this recipe.
Charu (in the Telegu language, we say charu — In Tamil, they say rasam) is essentially a variety of lentil soup.  One can add any type of vegetables to the various forms of charu — garlic charu, pepper charu, or just plain ol' lentil charu.  Indians generally don't use celery nor do they use a mirepoix in their food.  They have their own holy trinities, but celery isn't included in any of them.
So I tried it.  I applied the technique of using a mirepoix base with charu — and the result is amazing.  I didn't quite know what to expect, but what resulted was a silky, luxurious broth full of complex flavors.  It retains all the essense one would come to expect from well made charu with an added set of rich, elegant flavors brought about by the mirepoix.
Charu Au Poix (French Inspired Rasam)
1 lemon sized ball of tamarind
1 1/3 pints of water (beer pint glasses are conveniently found in my house)
1/4 cup toor dal
1 teaspoon ghee (clarified butter, substitute olive oil)
1-2 moderately small carrots, diced*
1 celery rib, chopped
1/2 small red onion, diced
1/2 teaspoon mustard seeds
1/4 teaspoon cumin seeds
5 curry leaves
1/2 large sized tomato, diced (not roma)
1/2 teaspoon turmeric powder
3 cloves garlic, chopped finely
2 teaspoons rasam powder
3 dried red chillies (substitute green chillies)
1 cube Rapunzel Vegetable Bouillon cube*
1 handful of cilantro, chopped
1.  Soak the tamarind in a bowl with the water.  Depending on the brand of tamarind, You may need to break it apart while it's soaking to allow it to properly soak.
2.  Pressure cook the toor dal in water until it's soft, usually at the magical 5 whistle mark.  After pressure cooking, discard of any excess water.
3.  Create a mirepoix by sautéing the celery, carrots, and onions in the ghee until the onions are semi-translucent and all the vegetables are soft.  Usually around 15-20 minutes on medium-low heat.  Be sure not to brown the vegetables while making the mirepoix.
4.  There should be some excess ghee from creating the mirepoix.  Pour the excess ghee into another pan to be used to temper the mustard seeds, cumin seeds, and curry leaves.  Heat until the mustard seeds pop.
5.  After the mustard seeds start popping, add the diced tomato, turmeric powder, garlic, rasam powder, and red chillies.  Saute the tomatoes for 7 – 10 minutes until the tomatoes are cooked and have absorbed the rasam powder and turmeric.  Stir frequently to prevent burning.
6.  Add the Rapunzel Vegan Vegetable Bouillon cube (with sea salt) to the mirepoix.
7.  Add the water from the soaking tamarind to the mirepoix consisting of celery, carrots, and onions.  You may need to filter the tamarind water concoction to prevent seeds and other extraneous tamarind content from entering the pot.  Blend the mirepoix and tamarind mixture until completely pureed.  We use a hand blender because it's convenient and effective.
8.  Add the tempered tomato, garlic, and mustard seed mixture to the tamarind and mirepoix.
9.  Add 1 cup of water (maybe more or less depending on how spicy you like it — more water == less spicy)
10.  Finish the charu with a handful of chopped cilantro.
11.  Bring to a boil, until everything has melded together well.  Add salt and a little red chili powder to taste.
12.  Serve with basmati rice.  And a side of Lay's Original Potato Chips as pictured.  Also goes well with sauteed potatoes and french style green beans.
*You need not worry about separating the leaves of cilantro from the stems because the stems contain a lot of flavor.  Be sure not to chop the cilantro too finely, or else you may lose more flavor to the cutting board than you will put into the charu.
*I used very little salt because the bouillon cube has plenty of salt itself.
*  We love the Rapunzel brand boullion cubes because 1) they're vegetarian friendly and 2) they're very tasty.  We buy them at Whole Foods, but you might find them elsewhere.
* Use less carrots if you prefer it less sweet, but use 1 carrot at a minimum.