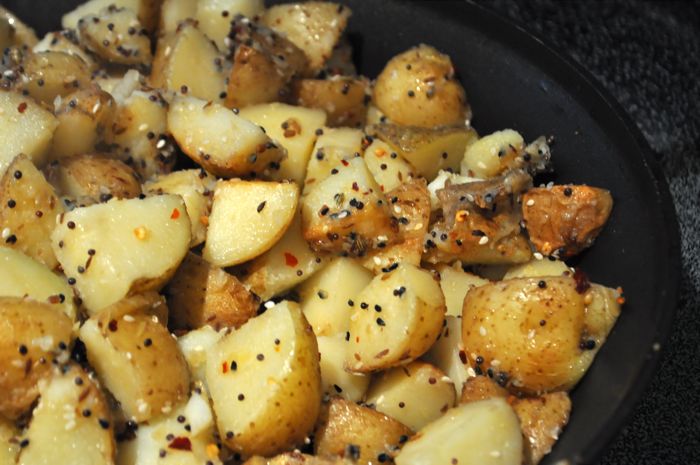 We've been spending our weekends since August on Shelter Island – which means room for Surya to run and play in between "beach time" and "pool time" (and occasionally "ice cream time"). A few times, I've carefully toted my masala dabba along with me  to cook Indian food. Cooking in someone else's kitchen – especially cooking "speciality" food, in someone else's kitchen is hard. It meant blending tomatoes for paneer makhani in a smoothie blender and changing courses on certain recipes. I had planned to make a whole spiced potato recipe from Suvir Saran's Indian Home Cooking, but then realized I left my cookbook back in Brooklyn and didn't have whole spices handy. I had, however, thrown a pack of Panch Phoron in with my kitchen gear and a blend of spices which I wanted to use for making Til Aloo from Indian Food Rocks.
Panch Phoron is a traditional Bengali five spice blend combining nigella seeds, black mustard seeds, fenugreek seeds, fennel seeds and cumin seeds. Each bite is a crunchy mix of whole spices. A little spicy, a little bitter – and in this case, a little nutty and peppery from the sesame seeds and crushed red chili flakes that I threw in.
It was late, I wasn't in my kitchen and I was missing a few ingredients here and there – the result though was tender nuggets of potatoes coated in crunchy whole spices and generous flecks of sea salt.
[amd-zlrecipe-recipe:7]